CCJ's Indicators rounds up the latest reports on trucking business indicators on rates, freight, equipment, the economy and more.
---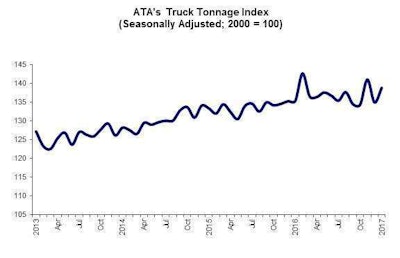 Tonnage climbs to start 2017: Trucking moved 2.9 percent more freight in January than December, according to ATA's monthly Truck Tonnage Index. The gains add to recent hopes that the rocky freight and rates environment seen since mid-2015 could be coming to an end. "The freight economy is starting to show some signs of life and January's truck tonnage numbers are a good step forward," said ATA Chief Economist Bob Costello. "Hopefully the ups and downs in truck tonnage during 2016 will not be as pronounced in 2017. Looking ahead, the most recent positive sign for truck tonnage is the large drop in the inventory-to-sales ratio during December. The decrease put inventories throughout the supply chain, relative to sales, to the lowest level in two years. There is no doubt that the inventory glut was a drag on truck freight volumes last year."
---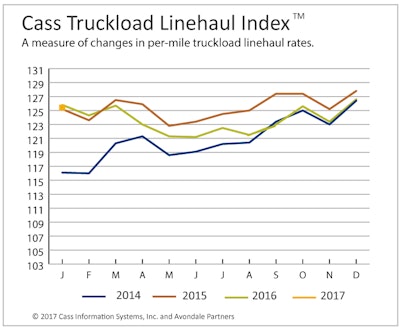 Cass index closes year-over-year gap in rates: The Cass Truckload Linehaul Index, a measure of monthly changes in linehaul rates, fell a fraction of a percent in January, following similar losses in January and December.
However, despite January marking the eleventh straight month for year-over-year declines in the index, the drop in January was the smallest of the 11, which Avondale Partners' Donald Broughton says offers hope for carriers and rates. "We are seeing some improvements in pricing power of truckers," he said.