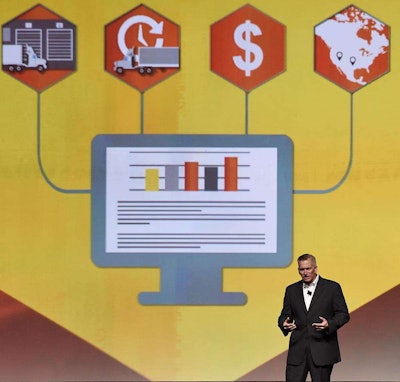 TMW Systems added to and enhanced the features of its TruckMate transportation management system to expand its intermodal service capabilities.
TruckMate's intermodal module now includes a feature that automates the capture and billing of per-diem charges associated with the use of intermodal chassis pools. With the new chassis-billing feature, users can establish automated billing methods for each customer and each shipment, the company said.
This new feature also tracks chassis pick-up and drop-off times and locations to help users avoid penalties.
TruckMate's new rail billing functionality enables users to complete rail reservations, transmit bills of lading and receive shipment status updates via electronic data interchange.
An enhanced ContainerSeek feature minimizes the need to manually track the arrival and availability of containers at ports and other shipping locations. The feature increases customer visibility into shipment status, helps avoid unnecessary shipping delays and reduces the transportation provider's exposure to excessive container charges and penalties, it said.
"We continue to expand and enhance the TruckMate solution to enable users to adapt their businesses to ever changing market demands and capture new customer and revenue opportunities," said Ray West, senior vice president and general manager, TMS solutions, TMW.