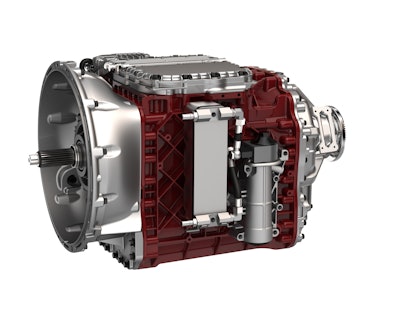 Mack Trucks Thursday at the Mid America Trucking Show in Louisville introduced a Super Econodyne rating for the direct drive version of its mDRIVE automated manual transmission (AMT).
Previously the Super Econodyne rating was only available with mDRIVE's overdrive version but Mack says the numerically lower rear axle ratios allowed the company to use the direct drive variant, which results is up to 1 percent better fuel efficiency on top of the 3 percent Super Econodyne already delivered on its own.
The direct drive mDRIVE, thanks to reduced parasitic losses, is inherently more fuel efficient due to the fact that torque is not transmitted to the mDRIVE's countershaft while in top gear. Instead, the transmission's input and output shafts are locked together.
Best suited for applications of 80,000 lbs. GCW or less where drivers remain in top gear for a large percentage of time, Super Econodyne Direct also works best on mostly flat terrain and when drivers remain mostly in constant speed.
Mack's Super Econodyne rating fully integrates MP engines and the mDRIVE, enabling lower engine cruise RPM to save fuel without impacting power or performance. Super Econodyne-rated Mack engines cruise at approximately 1,150 rpm – a reduction of 200- 300 rpm from a typical highway cruise rpm – which can result in an improved fuel efficiency of up to 3 percent.
Super Econodyne ratings are available with both the 11-liter Mack MP7 and 13-liter Mack MP8 engines.
Automatic Standby Mode option for 6×2 liftable pusher axle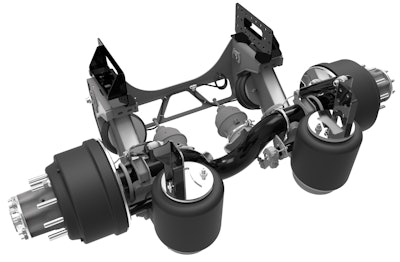 Also Thursday, Mack announced an Automatic Standby Mode option for its 6×2 liftable pusher axle. The 6×2 with liftable pusher axle offers improved fuel efficiency and productivity benefits and is designed for applications that haul out heavy and return empty, such as bulk haul.
The addition of Automatic Standby Mode eliminates the need for the driver to manually push buttons to initiate standby mode.
Roy Horton, Mack's director of product strategy, says sensors lift or lower the axle to decrease or increase traction, providing better performance and ride and simplifies things for the driver by eliminating need for manual input in putting the truck in standby mode to prevent overload.
When the ignition is off, Automatic Standby equalizes the suspension pressure, preventing the rear axle from being overloaded. The driver does not have to remember to initiate the standby mode and also does not need to remember the button sequence to put it in standby.
"Our fuel hauler customers came back to us and said 'the axles need to be on the ground, with the key off, while we're loading'," Horton says, adding Mack is also offering air disc brakes as an option to the 6X2 liftable pusher.
The 6×2 with liftable pusher axle monitors trailer weight and adjusts the truck's driveline configuration to boost fuel efficiency without impacting performance. The 6×2 with liftable pusher axle is capable of determining payload by using sensors in the rear suspension and either lifting or lowering the foremost rear axle. When an empty load is detected, the axle lifts, allowing the tractor to operate as a 4×2 for less drag, better fuel efficiency and reduced tire wear, which helps lower maintenance costs. For full loads, the same axle is lowered to provide additional stability and distribution of the trailer's weight.