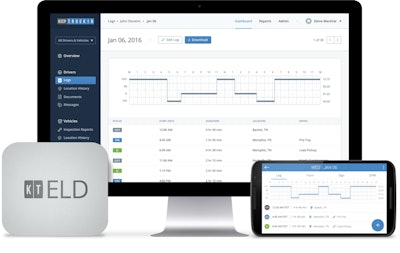 Accounts receivable factoring company Apex Capital announced a partnership with KeepTruckin, an electronic logging device (ELD) and fleet management software provider.
Apex Capital spent over twelve months testing and evaluating ELD solutions to ensure that the best option was selected for its client base.
"We're excited to partner with Apex Capital, an industry leader that shares our commitment to meeting fleets' pressing needs through a personalized, proactive and comprehensive customer experience," said John Verdon, head of partnerships at KeepTruckin. "KeepTruckin's ease-of-use will help Apex Capital's clients reduce administrative hours, streamline operations and comply with the ELD mandate regulations."
Apex Capital is a full-service freight factoring company for small to medium-sized trucking companies. It also offers a fuel discount program.
"With the FMCSA mandate becoming effective this year, Apex is very excited to provide an affordable, plug-n-play solution that enables our clients to keep moving freight," said Jennifer Letson, chief operations officer at Apex Capital. "This strategic partnership will ensure that our clients have access to a compliant solution, included on the FMCSA's list of registered ELD providers, in advance of the ELD mandate set to take effect in December 2017."
KeepTruckin has over 15,000 small fleets and 400,000 drivers using its free logbook app for Android and iOS. Its ELD application is offered separately and includes IFTA reporting for fuel taxes.