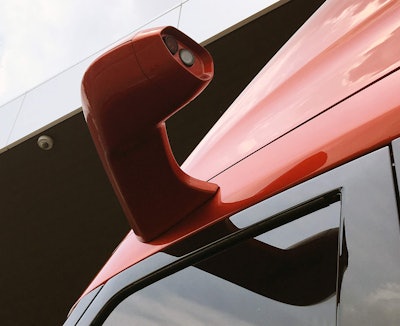 As part of CCJ's ongoing coverage of the future of trucking, here's my prediction: Rearview mirrors are going away. Eventually.
I can't predict a model year other than to tell you I think it's a long way off, but having driven two trucks equipped with camera and monitor systems – Volvo's and International's SuperTruck – I'm here to tell you that I think this type of technology is coming mainstream.
Currently, it's not legal to rely solely on a rear-facing camera, so vehicles equipped with such must still be outfitted with traditional mirrors. But mirrors are little more than ears of aerodynamic drag and they're completely avoidable.
Keith Brantley, Volvo Trucks' lead project manager for advanced complete vehicles and the father of the company's SuperTruck, says the federally-required rearview mirrors are the single biggest aerodynamic drag remaining on his truck.
I know what you're saying, "Sure, let's replace $500 worth of mirrors for $1,000 worth of cameras," but there's a better way, and it might be safer. Blind spots can only be minimized to the extent of your ability to place a mirror in a location where you can see it from the driver's seat. Multiple cameras could be placed at any point along the truck or trailer and feed into a monitor mounted to the interior pillars.
Cameras could do something a mirror could never do: Eliminate blind spots and glare from headlights.
Glancing in a mirror is a fairly simple process that doesn't require a lot of automation, but so was manually cranking down a window.
Unlike mirrors, where literally what you see is what you get, cameras can adjust for low-lighting and rain and you can select multiple angles to feed into the screen without having to look in multiple locations and multiple mirrors.
Cameras do have some limitations. For example, your field of view is fixed. You can lean as far forward or as far back as you'd like, but you're not going to expand your field of view. That takes some getting used to, but after a few miles it starts to click.
Backup cameras will be standard on passenger cars for the 2018 model year. My wife's car has one and I hate it, mainly because everything that I can see through that monitor, I can see over my shoulder. I don't even use it other than to make a quick glance just because it's there.
On each Super Truck, with the exception of the loss of peripheral field of view, I thought the camera/monitor system functioned remarkably like mirrors. Between the three monitors – one mounted on each pillar and one in the dash – I had five complimentary angles.
I didn't have the opportunity to back either of these trucks a great distance, and I'd like to see what the limited depth perception does to that process. I'm sure it will make it more difficult, but I'm curious to what degree. Is it something that could be solved with a wider angle? Maybe a fisheye perspective.
Or could the application of a platform like Ford's Pro Trailer Backup Assist be integrated with a rear-view camera?
I think the application here is interesting.
As we march toward autonomous driving, standard mirrors will play a diminished role and as video resolution improves – and it's already pretty excellent – the reasons to implement this kind of thing shrink.