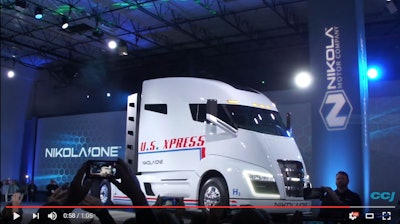 Note: This is the third and final of a three-part series that explores the emergence of a new generation of truck manufacturer. Part one, "The rise of the next-generation truck OEM," can be found here. The second, "New truck OEMs working to carve out their niche," can be found here.
Nikola Motor Company has worked to build its presence through partnerships with trucking behemoth Ryder and Bosch, a proven component supplier across an array of industrial segments.
Through its partnership with Ryder, Nikola will go from zero dealership locations to the largest footprint in the industry overnight.
"With 800 locations, we will have more locations than any other dealership in America," Nikola Motor Company founder and CEO Trevor Milton says of Ryder's coverage map that includes 6,000 technicians that will allow Nikola's trucks to be serviced and warrantied anywhere in the country. "There's not another dealership in the country that has the number of service locations that we have access to now."
Similarly, Alkane has component relationships with traditional manufactures like American Axle and PSI, and uses a network of established truck dealers to sell the company's trucks.
"We don't try and set up our own dealerships," says Alkane Truck Company CEO Bob Smith. "We go through the existing dealership network that is in the business of selling and servicing trucks. We're not trying to do it all."
All of Alkane's medium-duty and heavy-duty trucks are shipped to Alkane as kits from each component manufacturer. Every component is then tested and approved under DOT regulations before being integrated and assembled at an Alkane-certified assembly facility by skilled American workers.
Last month, Smith signed a Memorandum of Understanding with Harrison Truck Centers, naming the Elk Run Heights, Iowa-based body builder and Freightliner dealer a Certified Assembler and Authorized Dealer of Alkane trucks.
The initial assembly roll-out will include Class 7 propane, Class 7 Near-Zero natural gas- and Class 8 Near-Zero natural gas-powered trucks.
Each Alkane dealer is assigned a territory, and Alkane doesn't charge a franchise fee to the dealer.
However, each dealer is required to buy at least two trucks per month. To-date, the Alkane dealer network consists of 103 rooftops with expansion plans that reach 650 locations over the next four years.
In January 2014, Yakima, Wash.-based Rainier Truck and Chassis LLC made its debut with the hopes to fill a void in the market voided by the exit of Chevrolet and UD. They became the first outside component assembler to market a line of Class 4-7 cabover models in North America.
Rainier Chief Executive Officer Gary Jones also relies on proven supplier partners like Dana, Allison and Cummins because, he says, fleets are familiar with these components and their reliability.
By 2015, the company built out a small network of 20 dealers and sold out its production lineup that year. The company plans to begin production on its 2018 model year trucks by next Spring with deliveries planned for mid-year.
Tesla already boasts a dealership network of 109 rooftops in 27 states but it's unclear how the company would sell an electric tractor – either alongside its passenger cars or through an established trucking partner.