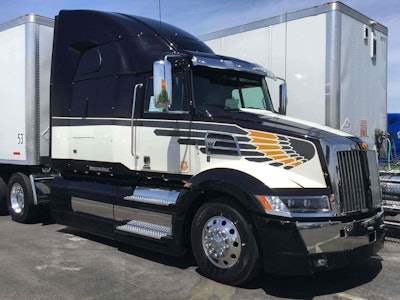 A Western Star tractor is a pretty distinctive truck on its own, but if you're really wanting to steal some attention a 50th Anniversary package is a pretty spiffy way to get it.
The 50th Anniversary graphics package, "Wings of Awesomeness," takes a Western Star to another level – a level fraught with retro Smokey and the Bandit vibes. The modern take on a classic wings paint scheme is pretty eye popping and comes as either a factory paint option or in a vinyl graphics kit.
Last week, I took a winged-up 5700XE on a quick jaunt down the Phoenix Interstate toward Tucson, Ariz., and all eyes were on me. Okay, maybe not all of them but I certainly felt like a cool old-school trucker – think Lincoln Hawk but with a cooler ride – thanks to a gussied up paint scheme that Western Star debuted in 1978 at the Anaheim, Calif., truck show.
Western Star On-Highway and Municipal Segment Manager Mike Guarino says the company wanted to mark its Golden Anniversary with something special and while pouring over archives of old photos of classic Western Star trucks, the winged pattern emerged as a clear winner.
The "Wings of Awesomeness" can be ordered on any color 5700XE, 4900, 4800 or 4700 truck for the rest of the year.
Under that really sweet silver and gold winged motif – which Western Star On-Highway and Municipal Segment Manager Mike Guarino says will likely be made available in multiple colors when Western Star closes its 50th Anniversary celebration at the end of the year, but silver and gold will be retired – was a normal 5700XE.
I've written about that in detail before. No, really. Click here.
But here's a quick recap: The 5700XE is quiet. The DD12 Automated Manual Transmission is so smooth it's ridiculous, and the black interior is on a completely different level of awesome.
Western Star has come a long way in 50 years and its Anniversary Package is a really cool way to celebrate that heritage without having to give up all the technology and comforts in a modern truck.