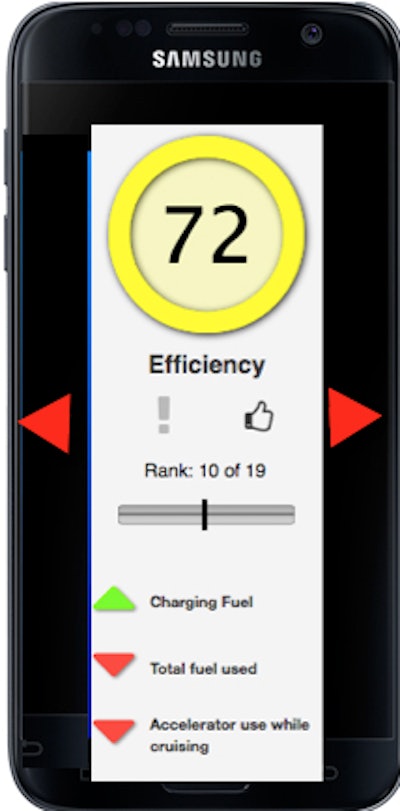 A number of mobile apps now come with scorecard features that give drivers an easy way to review their performance on a daily or even real-time basis.
While apps are convenient way to access such information, experience shows that drivers will lose interest in results that vary without an explanation of what they could have done differently, says J.D. Doyle, chief information officer of LinkeDrive.
One day a driver might achieve a high score for fuel efficiency, for example, but the next day have results that fall below average without knowing the reason why.
LinkeDrive's web-based driver performance management system uses a mobile app, PedalCoach, that uses a wired connection with the vehicle's ECM and algorithms that calculate the optimal amount of fuel input at any given moment. The calculation accounts for factors that the driver cannot control such as payload weight, temperature and topography.
PedalCoach gives drivers instantaneous feedback on throttle input through its UI — a digital gauge with a needle that represents the flow rate of fuel. The bottom third of the gauge's arc is the fuel target, a green zone, followed by yellow and red zones.
Drivers learn to keep the needle in the green by judiciously applying throttle and shifting progressively.
Recently, LinkeDrive has been developing new scorecard applications that give drivers a broader spectrum of performance metrics, chosen by the fleet, with recommendations on how to improve.
For example, a driver might receive a message that says: "Yesterday you took it out of cruise too early," says Doyle. The driver will be able to drill down to see more details like where and when he should have used cruise control to achieve better results.
Telematics provider Blue Tree Systems developed an app that installs on Android or Apple devices that fleets can use as a companion for the Blue Tree in-cab fleet management system.
The performance app has a "360 Driver Scoring" feature that fleets can configure for the metrics and weights they wish to use. The app has three categories for driver scoring: compliance (hours of service and road speed limits), fuel performance and safety.
Drivers use the app to view updated scores in each category daily. When drivers click on a score the app gives coaching advice.
One of the unique safety metrics in the app shows the time that lapses from when a driver lifts his foot from the accelerator to when he applies the brakes, says Charlie Cahill, president of Blue Tree Systems.
The metric is an easy way to evaluate if a driver is looking ahead and maintaining a safe following distance, he says. A driver should be coasting for a few seconds before braking. The time period is different according to the driver's average speed. In general, drivers with an average speed above 30 mph should have at least two or three seconds between accelerator and braking, he says.
Click on another topic to continue or return to the main page.
Video safety systems that detect a wide range of risky driving behaviors
Using leading indicators of driver risk to stage an early intervention
Comprehensive databases that give a "360 degree" view of driver performance
How Cypress Truck Lines automatically evaluates and rewards driver performance