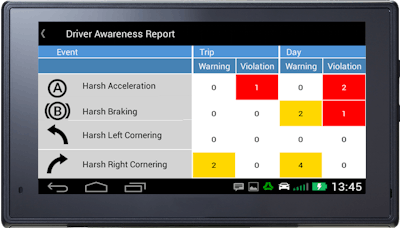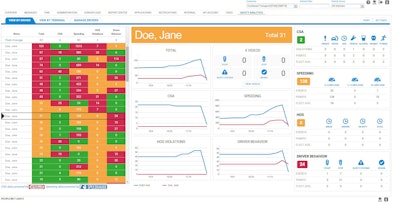 One of the hallmarks of a successful driver management program is that everyone knows the score and what to do to improve it.
To this end, fleet mobility provider PeopleNet has developed a method to simplify the scoring of complex event data captured by its Video Intelligence product.
Video and critical event data from vehicles is transmitted to the cloud and accessed by fleets using the online PeopleNet Fleet Manager (PFM) portal. As part of the solution, fleets get a Safety Analytics dashboard that identifies the most at-risk drivers in the fleet.
PeopleNet uses a four-tier scoring system in the Safety Analytics dashboard. The scoring mirrors the crash predictors found in a 2005 and updated 2011 study from the American Transportation Research Institute and has data visualization tools that identify drivers by degree of risk.
Drivers with scores in the top 10 percent in each category, and the top 10 percent overall, are highlighted in red followed by yellow and green for the top performers.
The dashboard and scoring system utilizes data captured by the PeopleNet system that includes violations of posted speed limits and hours of service, and also brings in daily CSA violation data through partnership with Vigillo.
To date, the company has more than 35,000 drivers in the Safety Analytics system, says Jim Angel, vice president of the company's Video Intelligence solutions.
In addition to the Safety Analytics dashboard, the PFM portal comes with a 10-column driver scorecard. Fleets that use products from PeopleNet's data analytics firm, Vusion, can use some of these columns for more advanced metrics.
Vusion is currently working on new mathematical formulas to identify leading, predictive indicators of driver risk, he says. For example, analysis may show that unsafe drivers are more likely to not use seatbelts or not complete pre- and post-trip inspections.
"You can get a lot deeper," Angel says.
After identifying which drivers are riskiest, the next step is to determine what corrective action will be the most effective to change the behavior, explains Sid Nair, senior director, transportation practice, at Teletrac Navman.
Rather than look at each situation on a case-by-case basis, fleets are using prescriptive analytics to make that decision automatically.
As an example, Teletrac Navman's mobile fleet management platform has a Driver Scorecard that shows drivers what percentile they are in for each metric, and what behaviors they need to focus on to improve. It also has a module, Adaptive Intelligence, that ties the scorecard to online driver training modules.
If a driver has a certain number of harsh braking incidents, for example, the system will automatically trigger an assignment to the driver to take a training module on defensive driving.
Omnitracs also has an online Driver Center that presents a dashboard of key metrics for driver performance. The Driver Center is the interface for Omnitracs' predictive models for accidents, driver turnover and fatigue.
The models for driver safety and turnover can be customized to fleets' needs to be "as complex or simple as the client wants it," says Lauren Dominick, senior director of analytics and modeling at Omnitracs.
The data can come from its own fleet management platforms and from other databases that fleets use. The Driver Center identifies drivers that a fleet should focus on to prevent accidents or turnover, depending on the predictive models the fleet uses, and the reasons why the drivers are at risk, she explains.
Click on another topic to continue or return to the main page.
New scoring features that make it easy for drivers to review their own performance
Video safety systems that detect a wide range of risky driving behaviors
Comprehensive databases that give a "360 degree" view of driver performance
How Cypress Truck Lines automatically evaluates and rewards driver performance