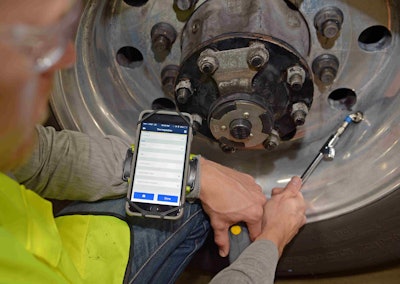 Goodyear enhanced its Total Solutions product offering Wednesday with the introduction Goodyear Tire Optix at ATA's Technology & Maintenance Council (TMC) Annual Meeting in Atlanta.
Johnny McIntosh, general manager, commercial business solutions at Goodyear, says tires commonly trail only fuel in terms of operational and maintenance expenses for commercial truck fleets. Because of this cost, it is becoming increasingly clear to fleets and their suppliers that tires must be managed properly for optimal performance and to help prevent expensive vehicle downtime.
McIntosh says Goodyear Tire Optix seeks to do just that. Available throughout the company's 2,300 Goodyear Commercial Tire & Service Center and Goodyear commercial tire dealer locations, Goodyear Tire Optix allows fleets to rely on their tire provider to accurately monitor and evaluate all of their tires.
"Today, most tire technicians measure inflation and tread depth levels with a manual gauge, jot down the results on a piece of paper, and later may key the data into a computer, sometimes taking days to relay the information back to a fleet. We saw an opportunity to streamline this procedure and increase speed and accuracy," says McIntosh. "The result is our new Tire Optix program."
Through Goodyear Tire Optix, McIntosh says trained Goodyear truck tire technicians (at dealer locations or onsite at fleet terminals) use a special scanning device to electronically record air pressure and tread depth. This information automatically uploads via Bluetooth to a cloud-based platform in real time for password-protected storage and easy access. Data can then be downloaded through the new Goodyear Tire Optix App by fleets.
By eliminating manual data entry, McIntosh says fleets can view their information "in real time, enabling them to identify maintenance opportunities and immediately adjust their tire management programs, if needed. This helps increase their uptime and improve the utilization of their tire assets."
Additionally, McIntosh says Tire Optix allows Goodyear to provide more value for customers through all four aspects of tire management: inspection, consultation, maintenance and optimization. In early tests, he says the system has shown to extend the life of fleet tires by 20 to 25 percent.
"The new Goodyear Tire Optix program is the next step in the evolution of truck tire management," says McIntosh. "We believe it will help fleets enhance their operational efficiency while optimizing their cost-per-mile, and will become an essential part of their tire programs."