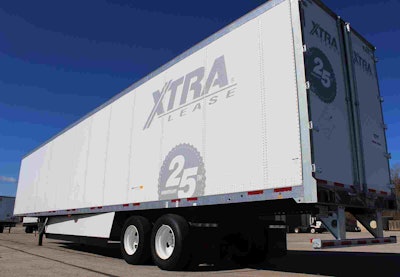 Trailer leasing company Xtra Lease announced Monday it is marking by deploying trailers with special silver emblems and has added cargo sensors to help fleets manage their trailers.
The company will add approximately 9,000 new trailers to its fleet in 2018, it says. Dry vans and reefers will be adorned with silver logos and anniversary seals, while all new dry vans will receive cargo sensors – available for free on all rentals and leases.
Xtra Lease is the largest provider of trailer rentals and leases in the U.S., with more than 50 locations and nearly 85,000 trailers.
Last year, Xtra Lease introduced a new trailer tracking system and portal, powered by SkyBitz, which includes landmarking, alerts and other features. This year, new dry van tracking units will include free cargo sensors, which will enable fleets to:
Know when their rental trailers are loaded and unloaded
Improve dispatch and turn time
Get detention data