CCJ's Indicators rounds up the latest reports on trucking business indicators on rates, freight, equipment, the economy and more.
Tonnage jumped in May from same month last year: The amount of freight moved by the for-hire trucking industry, as measured by the American Trucking Associations' monthly Truck Tonnage Index, was up 7.8 percent in May compared to the same month last year, ATA reported Tuesday.
Tonnage climbed just seven-tenths of a percent in May from April, but year-to-date through May, tonnage was up 8 percent from the same period in 2017.
"This continues to be one of the best, if not the best, truck freight markets we have ever seen," said ATA Chief Economist Bob Costello. "May's increases, both sequentially and year-over-year, not only exhibit a robust freight market, but what is likely to be a very strong GDP reading for the second quarter. However, in the near-term, look for moderating growth rates for freight simply due to more difficult year-over-year comparisons, not from falling tonnage levels."
—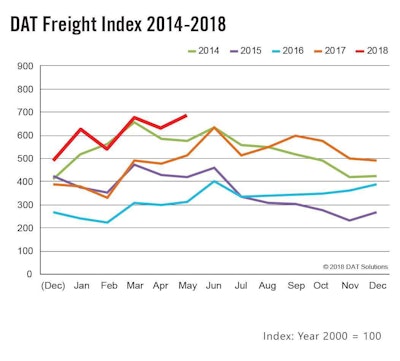 Spot market still on fire: Spot market freight demand kept surging in May, according to DAT's monthly North American Freight Index. Record demand, along with higher diesel prices, also pushed rates upward, DAT notes.
In sum, available loads on the spot market climbed 9 percent from April, DAT says. Freight volume in May was up 34 percent from the same month last year. Flatbed was the key contributor, with freight volume spiking 69 percent in May 2018 compared to May 2017.