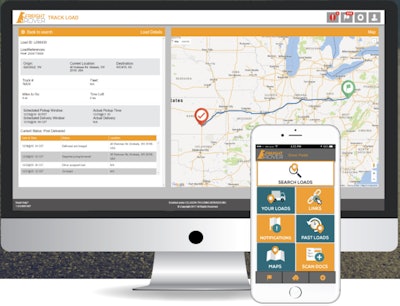 Transportation One, a large and fastest-growing logistics company, has started using a digital platform from FreightRover that includes online carrier quick pay, automated LTL rate return and invoicing as well as a private freight marketplace where shippers and 3PLs post freight to their preferred carriers.
The decision comes at a time when record-tight capacity and record-high rates have many shippers and third-party logistics providers scrambling to develop private freight marketplaces and other proprietary solutions.
Transportation One selected FreightRover's suite of tools to quickly add digital freight brokerage to its business model. The company plans to use FreightRover's customizable platform as a tailored transportation management system unique to its operations to support faster growth and scalability.
Transportation One now will provide its customers with a private, proprietary freight marketplace branded to their business, as well as a carrier-facing portal for quicker carrier payments. In addition, the company will use FreightRover's white-labeled SmartLTL to instantaneously gather rates from multiple carriers and simplify LTL shipment management.
"Utilizing FreightRover's leading-edge features and leveraging its technology as the foundation to build our own robust platform enables Transportation One to become a digital freight broker that competes with the top proprietary solutions out there," said Jamie Teets, chief executive of Transportation One. "We believe that investing in both people and technology will drive efficiencies and improve carrier and shipper satisfaction that will place us at the top of the industry."
Freight Rover said that transportation and logistics companies can use its technology suite as a privately branded system and provide their shipper customers and carriers with the same products and services as the largest 3PLs in the industry.