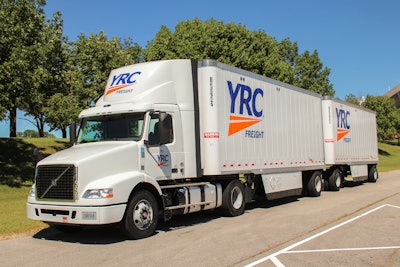 The U.S. Department of Justice announced Friday it has filed suit against YRC Freight, a subsidiary of YRC Worldwide (No. 6 on the CCJ Top 250), alleging that the company overcharged the Department of Defense for moving freight and made false statements to hide the alleged misconduct.
An attorney for YRC Worldwide said the allegations "are totally without merit."
"We have made every effort over nearly a decade to address the government's questions," said Jim Fry, YRC Worldwide's general counsel. "We are confident that the evidence will demonstrate YRC Freight acted consistently with our contract and all applicable guidelines. We look forward to continuing to provide essential and valuable logistics services to the U.S. government and all our customers."
The company says the charges come "after more than nine years of diligently cooperating with the federal government's inquiries" for shipments during a period before 2013. The company adds that business with the DOD "currently represents less than 1 percent of YRC Freight's annual revenue."
The DOJ alleges that, for more than seven years, the company bilked the government out of "millions of dollars for shipments that were actually lighter, thus cheaper, than the weights" that DOD was charged for. The allegations state YRC Freight "systematically overcharged" the government for the work. Additionally, DOJ alleges the company "knowingly made or used false statements concealing their overcharging practices to the Department of Defense."
The DOJ allegations claim YRC reweighed shipments and suppressed the results when they indicated a shipment was lighter than its original estimated weight, then billed DOD "based on weights they knew to be inflated" rather than charging based on the correct weight.