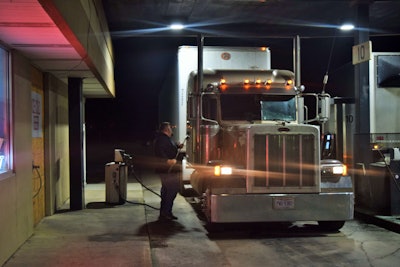 Diesel fuel prices are down for the ninth consecutive week, falling by 4 cents on average nationally during the week ending Dec. 17, according to the latest numbers from the Department of Energy.
The latest decrease brings the U.S.' average for a gallon of on-highway diesel to $3.121, the lowest since mid-April. During the nine-week plunge, fuel prices have dropped by 27.3 cents.
Prices fell in all regions during the most recent week, with the most significant decrease being seen in the Rocky Mountain region, which had a 6.1-cent drop.
The Gulf Coast region continues to hold the nation's lowest prices at $2.90 per gallon, followed by the Midwest region at $3.018 per gallon.
The most expensive fuel can be found in California at $3.835 per gallon, followed by the Central Atlantic region at $3.342 per gallon.
Prices in other regions, according to DOE, are:
New England – $3.276
Lower Atlantic – $3.021
Rocky Mountain – $3.178
West Coast less California – $3.313
ProMiles' numbers during the week saw fuel prices fall by 5 cents, bringing its national average to $3.05 per gallon.
According to ProMiles' Fuel Surcharge Index, the most expensive diesel can be found in California at $3.792 per gallon, and the cheapest can be found in the Gulf Coast region at $2.915 per gallon.