Alabama Motor Express is celebrating a milestone with 30 years as a family-owned trucking and logistics company. AMX has grown to 300 employees, 250 trucks and 600 trailers over the last 30 years and logged over 20 million miles to deliver more than two million shipments.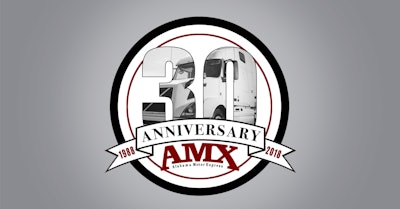 To commemorate and celebrate this success, AMX is completing 30 acts of kindness for their employees, community and industry.
"We're a company that cares about our community and the future of the trucking industry," said Scott White, president and chief executive of AMX. "Performing these 30 acts of random kindness is our way of giving back to our community and doing something good."
One act of kindness is donating 16 Women in Trucking Association memberships to its female employees as a way to continue helping to solve the driver shortage issue and support female truck drivers.
"Our mission is to encourage the employment of women in the trucking industry, promote their accomplishments and minimize obstacles," said Ellen Voie, president and CEO at Women in Trucking Association. "We are thrilled to see a trucking company like AMX not only support these women, but to generously donate to their driver's professional growth."
Other celebratory acts of kindness include
Donated $7,500 dollars towards the Alabama Trucking Association Foundation to provide scholarships for diesel mechanic schools.
Joined the Truckload Carriers Association and nominated its first Company Driver of the Year, Ruben Daniels, for his more than 20-year experience as a safe, loyal and courteous truck driver at AMX.
Raised the wage for truck drivers by 5 to 10 percent based on experience and performance.
Implemented a compensation bonus based on safety, loyalty and performance.
Provided a new financial wellness program, Smart Dollar, as a commitment to employee's financial wellness.
Invested in a new driver lounge as a place for drivers to relax before a long trip, emphasizing the company's commitment to employees.
Built a new corporate meeting room to empower the AMX team to better perform trucking and logistics operations for customers.
IN THE ALABAMA COMMUNITY
Dedicates time and resources to The Harbor, a local homeless shelter located in Dothan, Ala., and participates in a mentorship program to offer available positions to those at the shelter looking for work.
Donated to the SAFE Shelter Center for Domestic Violence Serviceslocated in Savannah, Georgia, in addition to sponsoring families over the Christmas holiday.
AMX leadership participates in the Alabama Leadership Initiative, a program for emerging leaders to connect with statewide experts and address the issues impacting Alabama.
"These acts exemplify our commitment as a future leader in the transportation marketplace to deliver value and impact our economy in a positive way," Collins White, president of logistics at AMX.