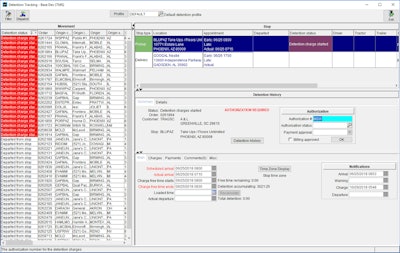 McLeod Software announced the latest 18.2 version of LoadMaster and PowerBroker with new ERP functionality for truckload carriers, LTL carriers, brokers and 3PLs fall in these areas:
Detention management
Version 18.2 of LoadMaster, for motor carriers, has an improved Detention Management module that automatically warns a customer of potential detention problems before they happen. This module better displays and tracks detention, bills the customer and pays the driver.
By tracking driver detention at every location, carriers can evaluate loads based on expected detention at either end.
McLeod's new Detention Management Module is now available for PowerBroker, the ERP system for freight brokers and 3PLs. With the module, brokerage users can capture arrival and departure data to effectively calculate, bill, collect for, and pay detention events.
Digital Freight Matching
PowerBroker Version 18.2 has a new Integrated Carrier Search in the base product. The feature combines two or more carrier search methods into one comprehensive search using an Integrated Search profile.
The Integrated Search results provide a list of carriers sorted with search weights set by the user. The higher ranked carriers in this integrated search are more likely to be in the best candidates for the load.

Waterfall Tendering is another element of McLeod's Digital Freight Matching strategy. This provides users with an automated way to cover freight by using prioritized and qualified carrier search results to automatically send a load offer to carriers who match a specific load. Each carrier who receives the load offer has a fixed amount of time to respond before the offer will expire, then the load be offered to the next carriers in the priority list.
McLeod recently introduced the Capacity Creator product for brokers. Using an integration with a Carrier Relationship Platform developed by Parade, the product takes emails sent by carriers about their available tractors and turns them into structured data about available trucks for purposes of brokerage planning.
Inside the Capacity Creator website, available orders sent from PowerBroker are matched with this structured data about available tractors. Automated load matching emails are provided to the carrier or to the PowerBroker carrier salesperson.
Enhanced Integration
McLeod Software has new mobile communications partners and expanded integration solutions.
Samsara offers a dash camera as part of a fleet management and data platform that combines real-time GPS tracking, electronic logs, wireless sensors, video, and mobile applications. Samsara now integrate driver's hours of service information and GPS position data into LoadMaster.
McLeod has also enhanced the interface with Blue Tree mobile communications to retrieve vehicle speed, direction, ignition status and hub readings into LoadMaster.
PowerBroker users have a new choice for brokerage tracking interface with project44. Users can setup carrier tracking on individual shipments using project44's ELD or driver cell phone tracking.
Process Automation
Version 18 has new features for these McLeod products for business process automation. The company has enhanced its Rendition Billing, Access Administration, FlowLogix, and the Logix Anywhere tools used to develop mobile solutions.
DocumentPower has new reporting and analysis tools for managing and monitoring process performance.
The Rapid Alert Notification System (RANS) in LoadMaster or PowerBroker can be used to trigger the execution of FlowLogix workflows, making any event or alert condition the system detects the initiator of business process automation.
FlowLogix workflows can be initiated with a simple click of a "Magic Button," created by customers using McLeod's Field Marshal, from any LoadMaster or PowerBroker screen.
An all new Robotic Process Automation (RPA), part of the McLeod FlowLogix Designer tool set, allows for automating repetitive data-driven activities across applications, portals, and websites, the company says.