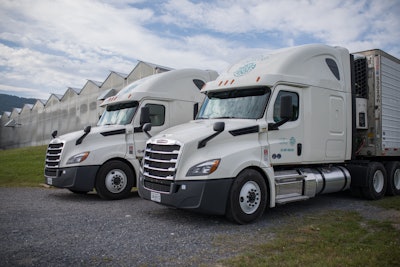 Shenandoah Growers, a leading grower of fresh, certified organic herbs to national retailers, has launched a national refrigerated LTL transportation service that provides food shippers with affordable shipments coast to coast.
The new service is an extension of the company's private fleet, which already makes deliveries seven days a week to major distribution centers (DCs) belonging to retail customers. The fleet delivers to DCs within a 250-mile radius of the company's nine regional packing facilities.
The company also has a linehaul network that supplies fresh cut product from greenhouses to its pack facilities. The new LTL transportation service can accommodate shipments in routes that align with the linehaul network and in routes that can be serviced from its distribution centers.
To launch the new service, the company has been transitioning its fleet from non-CDL straight trucks to semi-trailers and to larger straight trucks to increase its capacity. It also has invested in multi-temperature trailers to separate products with different temperature requirements in up to three zones, separated using bulkheads.
The new service is especially helpful for small growers to expand their sales regions, who could not previously afford to ship their products as LTL shipments over long distances.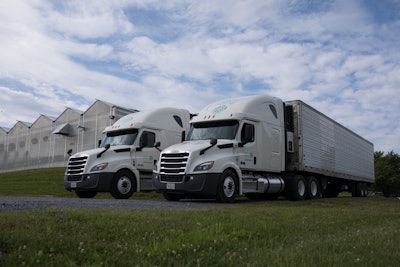 "We provide a service that opens up the market," says Jeffrey Saunders, vice president of National Logistics at Shenandoah Growers. "We saw an opportunity to leverage our existing fleet capacity and create a new, best-in-class service offering that delivers reliable and affordable shipments, at any temperature."
The total fleet currently has 90 vehicles and more than 100 drivers in its national hub-and-spoke transportation system.
"With distribution to hundreds of retail supermarket distribution facilities and retailers nationwide, our current footprint gives us the size and scale to offer transportation customers a cost-effective alternative for LTL shipments," added Saunders. "With our expertise, we're able to better address a critical void in the market."
Shenandoah Growers Logistics currently serves customers nationwide, with plans to expand cross-dock operations in the southeast and northwest regions in 2019 and double its fleet by 2020.
The company plans to update routes serviced by its national refrigerated LTL network on its website: www.shenandoahgrowers.com.