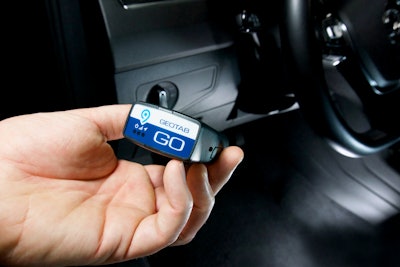 Geotab has released a new GO9 telematics device that its says brings better acceleration tracking, more accurate GPS, better support for vehicle-generated data and new vehicle types to its suite of fleet management products.
The GO9 maintains a small form-factor design and a self-configuring ability for most vehicles. Geotab says the new device helps to position it to expand globally and be utilized in new vehicle types that include electric vehicles. Some of its new features are:
The addition of a gyroscope to provide enhanced data for harsh braking, acceleration and accidents.
Increasingly accurate location data.
Improved Over-the-Air software updates and provisioning to ensure the firmware of GO9 device is always up-to-date.
The GO9 device is FIPS 140-2 validated, which is the benchmark for cryptographic modules protecting sensitive information in computer and telecommunication systems for U.S. Government, Canadian Government, and Military use.
"We have always prided ourselves on providing our customers with the best possible solution to help them better manage their fleets," said Neil Cawse, chief executive of Geotab. "The new GO9 device will not only enable them to improve productivity, efficiency and safety of their fleets and drivers but is a platform on which we will continue to add new features and capabilities in a unique and innovative way."
Geotab also announced the availability of a solar powered asset tracker, the TT600 series by Flex, on the Geotab Marketplace. The tracker can be used by fleets to have near real-time, detailed tracking information for assets such as trailers, containers and generators. The TT600 series is simple to install, it says, and gives visibility into the true utilization, dwell time, yard movements and yard entry and exit times of fleet assets.