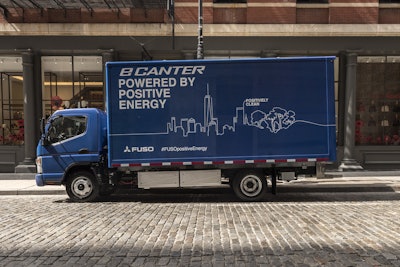 Penske Truck Leasing is adding Fuso's eCanter battery-electric trucks to its growing logistics, leasing and rental fleets.
Penske is among the first fleets to take delivery of these limited-production medium-duty vehicles.
With an initial estimated range of up to 80 miles and a fast-charging option, Penske Truck Leasing President and CEO Brian Hard says the eCanter is a viable option for fleets seeking to reduce tailpipe emissions and noise pollution in urban delivery settings.
Penske will initially take delivery of four Fuso eCanter battery-electric work trucks for use in California. The introduction of these new commercial EVs into Penske's fleet is another in a series of recent moves the company has made to test and showcase innovative electric vehicles with its customers including the Freightliner eM2 and eCascadia from Daimler Trucks North America, a sister company of Fuso.
Penske says is confident that Fuso, a subsidiary of Daimler A.G. and the first company to commercialize a series-produced, all-electric work truck, has the resources to support eCanter trucks thanks to its established parts, service and warranty network of FUSO dealerships – elements many start-up electric truck companies have yet to establish.