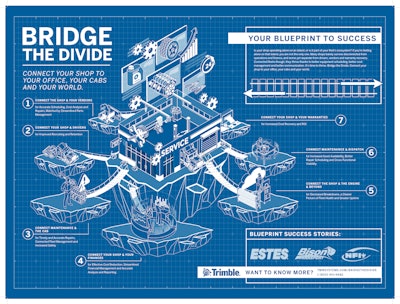 Trimble took another step toward further streamlining fleet maintenance with the introduction of its TMT ServiceConnect module at ATA's Technology & Maintenance Council (TMC) Annual Meeting Sunday in Atlanta.
Powered by Decisiv Service Relationship Management through the partnership between the two companies, Trimble says TMT ServiceConnect enables fleet shops using Trimble's TMT Fleet Maintenance (TMT) software to be connected to more than 4,500 medium- and heavy-duty service locations, including OEM dealers, throughout North America. By licensing the add-on module, Trimble says TMT users will gain direct connectivity to thousands of service centers to ultimately get equipment back on the road faster.
"This is a first in the industry," says Renaldo Adler, Trimble industry principal. "It used to be the person with the most toys wins. Now, it's the person with the most access to data who wins. We're trying to provide that."
By extending Trimble's first commercially available paperless shop solution, the Interactive Workstation (IWS), beyond the walls of a fleet's shop to a connected network of shops, Trimble says TMT ServiceConnect will result in the reduced duplication of data entry, fewer data entry errors and more accurate and complete information across the entire lifecycle of a fleet's equipment.
Trimble says TMT ServiceConnect provides more seamless collaboration between fleets and heavy-duty repair shops to schedule repair and maintenance activities, track service status, record service, parts replaced and labor, and create invoices for the service performed. Additionally, fleet managers will now be able to see the status of all equipment being worked on across service locations, and enables fleet maintenance shops to communicate directly with all service providers across their networks to schedule and approve repair work to be completed.
Decisiv President and CEO Dick Hyatt says this is a huge win for fleet customers, who "for a long time have wanted total transparency."
"This is a worldwide first, to close this circle and create this level of transparency," he says.
Adler says the comprehensive solution is being tested by several Trimble customers at this point and will be available throughout North America in the second quarter. When formally released, the solution will be purchased as an add-on to the TMT Fleet Maintenance software.