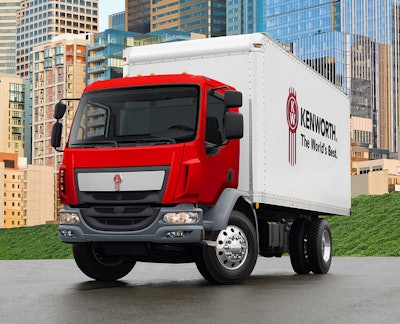 Kenworth had added options to its medium duty cabover models.
For the Kenworth K370 Class 7 cabover, new options are the Dana Spicer S23-172E 23K high entry axle, Reyco 23K rear suspension, Dana 1710 driveline series, 8K lift axle pusher, pusher tires and wheels, and upsized park and spring brakes. These options are appropriate for heavy freight delivery, dump truck, small concrete mixer, and crane, while also opening the door for other vocational uses, such as a larger concrete mixer or 43K dump.
The Kenworth K370 and the Kenworth K270 Class 6 both now offer the Davco 245 fuel/water separator combined with a battery disconnect switch on the left-hand rail as an option.
The Kenworth K270 and K370 are powered by the 6.7-liter PACCAR PX-7 engine, which is rated up to 260 hp and 660 lb-ft of torque, and delivers an exceptional power-to-weight ratio for the medium-duty market. Both models are standard with the 2100 HS Allison 5-speed automatic transmission.