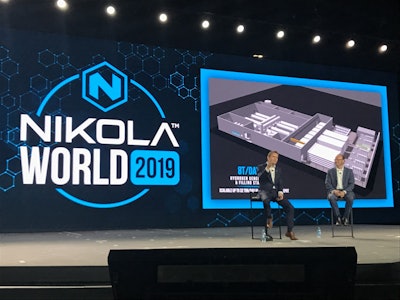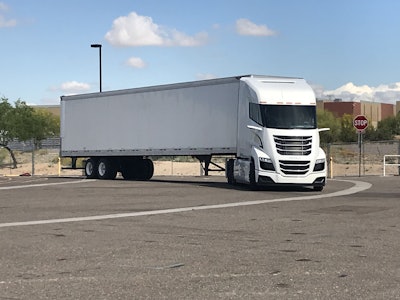 A nationwide rollout of Nikola Motor Company's (NMC) hydrogen-electric tractor still has many hurdles to clear before production begins 2022, but CEO Trevor Milton feels the company is poised to clear its largest – a lack of fueling infrastructure – by tackling that problem themselves.
Commonly referred to as the chicken and egg dilemma has plagued wide deployment of electric vehicles, but Milton says NMC will avoid similar hydrogen concerns by deploying trucks in conjunction with an infrastructure build-out.
The truck maker is working with Oslo, Norway-based NEL Hydrogen to develop, build and deploy a network of 700-plus hydrogen fueling stations along the routes of Nikola's truck customers. The first demo station came online this year adjacent to NMC's Arizona headquarters, and a research and development heavy duty station is planned for next year in Chandler, Ariz. The first eight ton capacity station is set to open in 2021 with full network construction ramp up starting in 2022, coinciding with production of Nikola's hydrogen-electric tractor.
With a footprint equivalent to a Love's Travel stop, Nikola's Executive Vice President of Hydrogen Jesse Schneider says each station will produce hydrogen on-site. NEL CEO Jon Andre Lokke says on-site production not only reduces lifecycle emissions, but it also eliminates distribution costs and makes the fuel more cost competitive to diesel.
"It reduces a lot of costs if you don't have to transport it," Lokke says.
Schneider says a station capable of producing eight tons of hydrogen per day – which is the company's target volume – uses less than 4 cents per kWh of electricity, allowing for a retail price of $6 per kilogram – almost half the price of current rates globally. A full-fill for a tractor, Schneider says, would be about 80 kilograms.
However, Schneider says the $6 figure would be the public rate. Fleets under a lease agreement, he says, would see fuel costs wrapped up in their contract along with maintenance, accumulating a cost per mile rate of around 95 cents over the course of a truck's seven year lease.
Cost of ownership
In late 2016, Ryder System, Inc., inked a deal to serve as the exclusive distribution and maintenance provider for NMC, unlocking Ryder's North American network of more than 800 service locations to lessors and owners of Nikola tractors. For the first time, fuel was included in the full-service lease terms.
Nikola Chief Financial Officer Kim Brady says including fuel cost in the lease is the great differentiator between the Nikola model and the traditional diesel system.
"What would your business had been like if you could have fixed the price of fuel for a period of seven years," adds Dennis Cooke, President of Ryder's Fleet Management Solutions.
Schneider says he's hopeful to get trucks fully fueled in under 10 minutes. Milton says currently, a complete fill would take about 15 minutes.
"We're replacing, 1-to-1, the diesel experience," Schneider says, noting an eight ton station has the capacity to fuel 150 trucks and 200 cars per day.
Fleets that want to perform service in-house will require some training and facility upgrades, but Nikola President Mark Russell says accommodations could be made for customers who want to buy the trucks outright.
"In the bundle price model, you don't have to worry about financing," Brady says, noting Ryder will continue to provide maintenance and warranty claims for cash-in-hand customers. "[But] for 95 cents per mile, you can lock in the vehicle, maintenance and fuel."
"If you can hire a driver and insure them," Russell adds, "your cost is basically covered."
"Now you're not just talking about uptime and maintenance," Cooke says.
The hydrogen model
In developing the world's first hydrogen-electric truck, Milton says it was important to him that the company not simply try to re-power a diesel unit. Zero emission engines have never taken off in trucking, he says, because there's always a problem with them – namely, they're either too expensive or not reliable enough.
"If you take an existing diesel and put a fuel cell in it, you can't do that. It can't work," Milton says, noting Toyota's fuel cell project with Kenworth. "We really built this thing from the group up to be different. I believe in the next 10-15 years, diesels will be banned around the world," Milton says.
Schneider says NMC is "trying to take the vehicle out of the carbon equation" by eliminating carbon emissions from the entire process. He says the company will rely on renewable energy sources like solar panels and wind turbines, possibly supplemented by nearby solar farms.