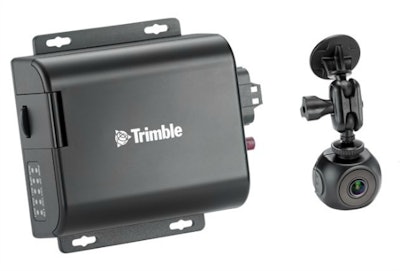 Trimble has made a two-channel digital video recorder (DVR) that records high-definition video from up to two cameras available as part of its Video Intelligence system.
The new hardware is designed specifically for smaller fleets and lighter duty vehicles, the company says, with the two-channel DVR's smaller footprint and a simplified installation process. With a reduced footprint and accessory power cables for an auxiliary outlet and OBDII connections, Trimble says installation can be done by the end user rather than by a professional.
Based on Trimble's existing four-channel DVR and video technology, the two-channel DVR stores more than 72 hours of video and has two SD card slots for expandable storage.
Trimble also introduced a new video on-demand plan that enables fleets to retrieve only the videos they want, which are sent in near real-time via 4G LTE networks for viewing in the Video Intelligence portal and on connected smart devices. The new option gives fleets the ability to further customize their experience and just access the videos that they request.
"The DVR and camera only took about 10 to 15 minutes to install," said James Van Eyll, fire chief of the Long Lake, Minnesota Fire Department and participant in the Video Intelligence two-channel DVR pilot program. "Being able to get video of what's going on at the scene and particularly after an incident gives me insight I've never had. The ability to get these videos on-demand is an extremely valuable tool for training purposes."
Trimble Video Intelligence uses a combination of forward, side and rear-facing cameras. Videos are triggered by company-controlled settings, including sudden acceleration or hard braking.
"While we launched Video Intelligence more than three years ago for over-the-road trucks, the potential for improved safety and liability protection is something fleets of all sizes and vehicle types can benefit from," said Jim Angel, vice president of Trimble's Video Intelligence Solutions. "Our two-channel DVR is built with these other fleets and vehicles in mind, providing them with a commercial-grade solution built to meet their specific safety and liability protection needs."