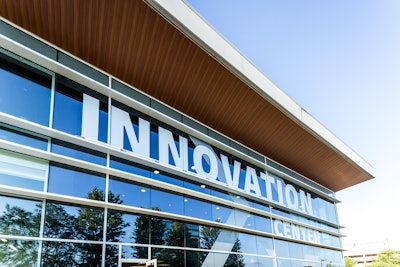 On Thursday, Sept. 12, global logistics provider Deutsche Post DHL Group held a grand opening of its newly constructed DHL Innovation Center in Rosemont, Ill.
DHL expects 5,000 supply chain professionals will be visiting the new facility every year to discuss ideas and watch demonstrations of technology that has the potential for significant productivity and efficiency gains.
The new DHL Innovation Center in the Chicago area was built for the company's operations in the Americas and joins two nearly identical facilities in Cologne, Germany, and Singapore for the company's European and Asian operations, respectively.
The state-of-the-art 28,000 square-foot facility in Rosemont is organized into three areas: a workshop, showroom and networking space. In each, DHL employees can interact and engage with customers, technology partners, academics and other DHL associates to demonstrate and discuss solutions to supply chain challenges.
During a private media tour on Sept. 11, DHL executives shared the process by which the company determines the technologies to showcase in the Innovation Center and deploy for select customers as a proof-of-concept before they are scaled out.
The process starts with DHL creating a report every other year called the Logistics Trend Radar. The report, now in its fourth year, looks at trends that company leaders believe will impact the industry in the next five to 10 years.
The report gives DHL a structured way to understand societal and technology trends in its business environment by ranking them according to their predicted impact and time horizon. Each year, the company picks two or three of the topics and does a separate "deep dive" trend report.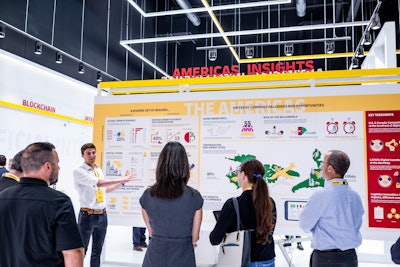 Topics in the deep-dive report become DHL's near-term strategic roadmap for investments and partnerships. Technology solutions that it finds to be workable are showcased in its Innovation Center to engage with customers and build use cases, said Matthias Heutger, the company's global head of innovation.
As an example, the company's investment in artificial intelligence (AI) for robotics started with a deep-dive trend report in 2016. A use case was developed for a real-time shipment weight and dimensioning technology that is three to four-times less costly than laser scanning.
That technology is now being used on a limited basis in DHL facilities and is currently in the process of being scaled out. During a media tour of a DHL Global Forwarding facility near Chicago, the technology was scanning freight pulled from inbound containers and trailers for accurate invoicing and customs processing.
DHL also provided the media with site tours at facilities in the Chicago area for business units DHL Supply Chain and DHL Express.
Overall, DHL Group has 550,000 employees worldwide and four business units in the Americas that include the three mentioned above and DHL eCommerce Solutions.
Business growth for DHL has been driven by globalization and more recently by e-commerce, which represents 90 percent of all retail growth. The company expects that its next wave of growth will be fueled by digitalization of the supply chain because of increased computing power, mobile connectivity and demand by e-commerce customers for more solutions.
During the opening ceremony, Heutger cited a study by McKenzie that looked at digital innovation across all industries and predicted that it will account for two-thirds of revenue and three-fourths of profit growth for supply chain companies.
Digital innovation in supply chain logistics has become the biggest focus of venture capital investment with an estimated $30 billion in startups since 2012, he said.
"The industry is hotter than ever," he said.
One of the areas in the showroom is a Trends Lab with several proof-of-concepts for DHL. One is a project the company started in 2015 using Google Smart glasses for order picking. Warehouse workers using the glasses have shown a 14 to 20 percent increase in productivity and up to 15 percent decrease in training time.
The opening of the new center in the Americas comes as DHL celebrates its 50th anniversary on Sept. 25, 2019. DHL was founded in 1969 by three business partners (Dalsey, Hillblom and Lynn) in San Francisco with an idea to ship cargo paperwork ahead to Honolulu by plane before containers arrived. This service expanded rapidly as it allowed the processing of cargo to start before its arrival.
The opening event drew more than 300 guests that included technology and logistics industry leaders and customers from across the region, as well as local officials and DHL senior leadership.
Chicago is an important hub for DHL. The company's DHL Express division plans to take air cargo volume going to its main Cincinnati hub and route it through Chicago's O-Hare airport (ORD). It plans to soon have airfreight shipments come directly to ORD from Leipzig, Germany, and from Asia via New York. Exports will go from Chicago to Asia via Incheon South Korea.