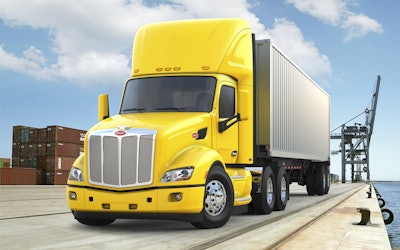 Kenworth and Peterbilt, this week at the North America Commercial Vehicle Show in Atlanta, each announced the addition of enhanced capabilities and new features for the next generation Bendix Wingman Fusion collision-mitigation system.
The system comes standard on Peterbilt's Model 579 and the Kenworth T680.
The new collision-mitigation features, Paccar Vice President and Peterbilt General Manager Jason Skoog said, include Highway Departure Braking (HDB), which builds Fusion's existing lane departure warning capability. HDB provides an audible alert to the driver and, if necessary, applies the foundation brakes to reduce vehicle speed up to 20MPH if the system determines the vehicle has left the roadway unintentionally.
Multi-Lane Emergency Braking (AEB) helps the driver mitigate both the first, and potentially second, crash situation when more than one highway lane is blocked. Once a collision mitigation braking event begins and the driver steers into an adjacent lane to avoid the forward vehicle, the new Multi-lane AEB feature continues to apply the brakes – if needed – when it detects another forward vehicle blocking the path in the new traffic lane.