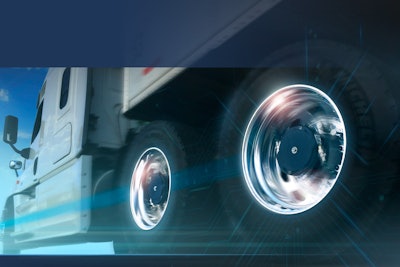 Aperia Technologies is adding vehicle location and service insight features to its Halo Connect tire analytics platform in addition to tire tread depth and replacement tracking.
The Halo Connect platform categorizes tire-related issues by severity and provides maintenance recommendations to fleets. The system issues proactive alerts to fleet managers on pending tire failures due to leaks, under-inflation and wear, allowing them to take immediate action to get the truck serviced before a roadside service call is necessary.
"We've seen fleets report more than 90 percent reduction in tire-related emergency roadside service since implementing Halo Connect in their fleet," said Josh Carter, president and CEO at Aperia Technologies.
Halo Connect also gives fleet managers and service partners greater insights into tire health at a fleet-wide and vehicle level to help reduce tire and operational costs by identifying and addressing issues before they become problems that impact fleet operations.
Halo Connect is available for use on vehicles equipped with the company's Halo Tire Inflator automatic tire inflation system for trucks and trailers. Aperia is putting Halo Connect into full production in November after a limited release to eight fleets earlier this year.