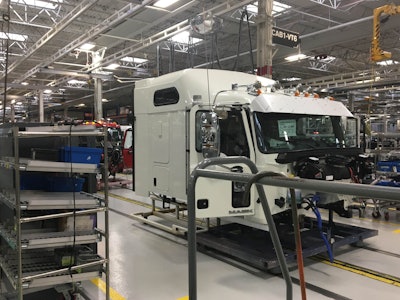 Mack Trucks and Volvo Trucks North America confirmed Friday morning that they will be the latest to join a growing list of truck and auto manufacturers to shutter assembly operations due to the COVID-19 coronavirus outbreak.
Mary Beth Halprin, Volvo Group vice president of public relations and corporate affairs, told CCJ Friday that, while the company has no reason to believe there are any cases of COVID-19 in any of the Mack, Volvo Trucks or Volvo Group powertrain manufacturing facilities in Macungie, Pennsylvania, Dublin, Virginia or Hagerstown, Maryland, "we have decided to temporarily suspend production as part of the effort to slow the spread of the virus in our communities."

Click here to view our full coverage of the coronavirus' impact on the trucking industry from the leading industry publications of Commercial Carrier Journal, Overdrive, Truckers News and Trucks, Parts, Service.
Effective Thursday, March 19, Mack and Volvo Trucks suspended production through Friday, March 27. Moving forward, Halprin said the company would monitor the outbreak and communicate additional decisions to employees on a regular basis.
"During this suspension," Halprin said, "we will be exploring new ways of working and possible approaches to production that would allow for increased social distancing in the facility. The health and safety of our employees and communities will be our primary concern as we work to make the most informed decisions we can during this uncertain time."
Kenworth Friday declined to comment on its production plans. CCJ has also reached out to Freightliner, Navistar and Peterbilt for comment but has yet to receive a response.
General Motors, Fiat Chrysler and Ford have already announced the suspension of manufacturing at their sites.