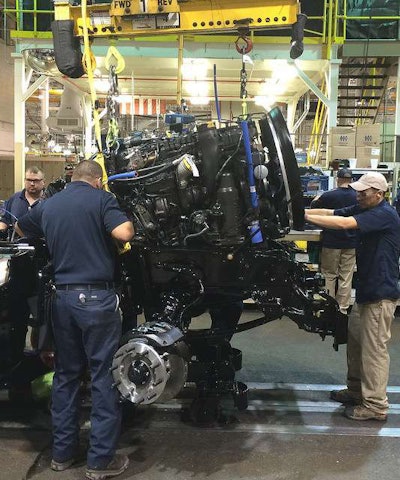 Paccar plans to suspend truck and engine production at its factories worldwide for more than two weeks due to the economic fallout from the global coronavirus pandemic, the company announced Tuesday morning.
Truck and engine production will be halted effective today through April 6, 2020, but Paccar said in a release that it "will continue to provide aftermarket support to its customers who deliver essential infrastructure services to our communities."
The company plans to review future actions on a regular basis.

Click here to view our full coverage of the coronavirus' impact on the trucking industry from the leading industry publications of Commercial Carrier Journal, Overdrive, Truckers News and Trucks, Parts, Service.
Paccar joins Navistar, who yesterday announced the suspension for two weeks production at its Springfield, Ohio plant, and
Mack Trucks and Volvo Trucks
North America who each Friday morning announced they were shutting down facilities in Macungie, Pennsylvania, Dublin, Virginia or Hagerstown, Maryland through this Friday.
Daimler Trucks North America, in a letter widely distributed Friday, said all its manufacturing facilities in North America "are in task force mode to maintain the continuity of our operations. The supply chain continues to be relatively stable, allowing us to continue to deliver trucks on time. So far this month, our on time-delivery rate continues to be at a very high level. The environment is changing rapidly and we are adapting every day," the company wrote.