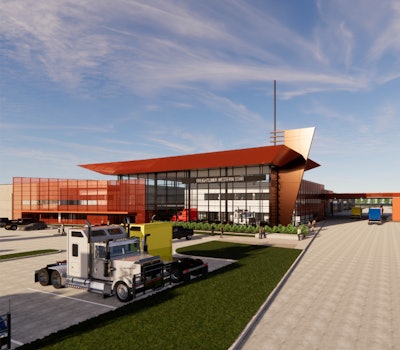 Daimler Trucks North America LLC's (DTNA) dealer network is building or remodeling more than 40 locations across 30 states and Canadian provinces, adding 700service bays this year.
The new service bays will increase potential network capacity by up to 3.5 million service hours per year, said DTNA General manager of Dealer Network Development Kevin Bangston, and are being added where the customer need is greatest. The Southeast will see a boost of 300 new service bays, with 90 additional bays will be added at a single Texas location alone. U.S. cities with significantly expanding service capacity include Nashville; Kansas City; South Bend, Ind.; and Columbus, Ohio.
Canadian dealers are adding service capacity as well. In Winnipeg, a new 30-plus bay facility is currently under construction while a Montreal location with 20 service bays is expected to open by the end of the year.
The DTNA dealer network comprises more than 1,100 dealerships, distributors and partner locations across North America.