After months of ongoing talks, Omnitracs, one of the largest providers of ELDs in the marketplace, announced it will acquire SmartDrive, maker of in-cab driver- and road-facing camera systems.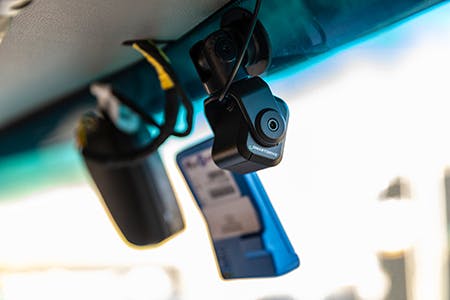 The companies announced Wednesday a definitive agreement for Omnitracs to acquire SmartDrive. Details of the purchase price were not disclosed for the deal that is expected to close this year.
The companies say the idea for the acquisition was hatched by the fact that, with the number of choices for in-vehicle devices and sensors on the rise, benefits can often be dampened by carriers having to pay for multiple cellular connections and having siloed data streams from onboard and back-office systems.
Earlier this year, Ray Greer and Steve Mitgang began "casually conversing" about the need for technology convergence in the transportation industry. Both agreed the market would benefit from more "simplification" and "aligning of data," said Mitgang, to help fleets get more value out of their data and have a lower total cost of ownership.
Mitgang is chief executive officer of SmartDrive Systems, which provides a video-based driver safety platform. Greer is CEO of Omnitracs, which provides SaaS-based fleet management and data analytics products.
As their conversations deepened, Greer said they both wanted to "lead and define" a new category of technology that brought together telematics and what he called "video-based driver safety."
The conversations led to talk of bringing the two companies together.
"It was clear, from the conversations we were having, that we saw the same things unfolding," Mitgang said. "Why wouldn't we do this? There is lots of natural overlap."
Omnitracs has been owned by private equity investment firm Vista since it purchased the operating unit from Qualcomm in November 2013. Omnitracs has made several acquisitions under Vista's ownership.
"The timing happened to be right for both of us to move in this direction," Greer said.
This is a full acquisition of SmartDrive, Mitgang explained. Omnitracs bought out all of SmartDrive's investors, some of which have been with the company for 13 years. The investors knew "at some point there was going to be an exit," he said.
An acceleration strategy
With the electronic logging device (ELD) mandate in the rearview mirror, the video telematics market has been expanding rapidly. Omnitracs has a video event recorder, but the product is more entry-level compared to SmartDrive.
The SmartDrive platform combines artificial intelligence and machine learning with a managed video review process to capture video event data and to calculate safety scores that represent the observed rate of risk for every driver based on numerous behaviors.
Whereas Omnitracs' video event recorder captures video clips of safety-critical events for review by fleet managers, SmartDrive uses a continuous learning process that is "way more robust than what we do," Greer said.
Omnitracs has not been able to invest heavily in video telematics due to supporting its large install base, as most of its recent investment has focused on modernizing its technology stack with its hardware agnostic platform, Omnitracs One.
"Omnitracs fell a bit behind in the evolution and advancement of critical event capabilities," Greer said. The acquisition of SmartDrive is "an accelerations strategy" in line with previous acquisitions by Omnitracs since Greer became CEO in Feb., 2018. Those acquisitions include Blue Dot and VisTracks.
Vista has owned Omnitracs for seven years and making another acquisition "signals to the market that Vista is committed to the strategic roadmap and agenda of the company," Greer said, adding that Vista selling Omnitracs in the near future is "not even something we have discussed."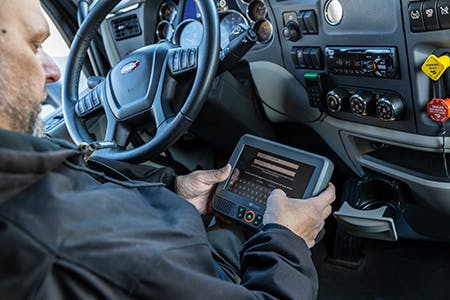 Mitgang and Greer said that SmartDrive and Omnitracs serve fleets of all sizes but do best at serving the needs of fleet customers with complex, data-driven organizations. In a press announcement, the two companies said the depth of experience makes them uniquely able support complexity at scale.
For example, SmartDrive's largest customer is Knight-Swift Transportation. C.R. England, the largest refrigerated carrier, is a customer of both.
"We've had great partnerships with both Omnitracs and SmartDrive over the years. We are excited to see these two companies come together," said Chad England, CEO of C.R. England.
Smith Transport, a 1,000-truck carrier with dry van and flatbed operations, uses products from both companies. The company implemented SmartDrive in 2019, as detailed in this article.
"Smith Transport is very excited about the future of this acquisition. Both Smart Drive and Omnitracs are masters of innovation and technology whose products remain on the cutting edge of today's ever changing transportation landscape," said Todd Smith, president and CEO of the Roaring Spring, Pa.-based company.
Going forward, the combined company plans to offer a converged, end-to-end platform that "optimizes safety, driver productivity and workflow, as well as routing, dispatch and compliance," according to the announcement.
Omnitracs has been moving on a path to ensure its applications become hardware agnostic, said Greer, but SmartDrive's SR4 device has all of the hardware capability needed to feed data to Omnitracs' software applications.
"Given the fact that video based safety is the highest ROI for the industry, we should lead with it," Greer said. Customers may also need a different hardware device in their vehicles, "and we want to be able to provide that to them."
As for new possibilities, the combined company is planning to deliver "the most complete and intelligent" driver user experience that includes alerting and coaching — a virtual co-pilot — that will "lead to significant safety, fuel efficiency, operational and financial gains for fleets," the announcement said.
Greer expanded by saying the company has a unique opportunity and capability to create an underlying risk alert system for drivers for a broad range of conditions, from traffic to weather and health alerts.
"That really intrigues me," he said. "Imagine the scale of the companies using insights and data to bring new perspectives to the industry."
During an interview with CCJ, Greer said this acquisition could driver further consolidation in the industry as it forces its competitors into a defensive posture. It also positions Omnitracs to thrive as technology continues to advance towards autonomous trucks by gathering data and insights on the operating environment to inform innovations.