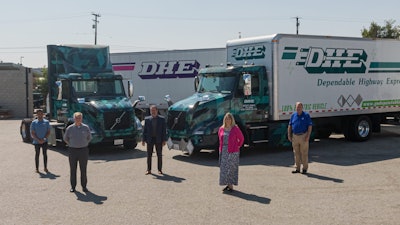 Trucking news and briefs for Friday, Sept. 11, 2020:
Calif. fleet adds two Volvo battery-electric Class 8 trucks to fleet
Dependable Highway Express (No. 124 on the CCJ Top 250) has received two Volvo VNR Electric trucks, the fleet's first battery-electric Class 8 trucks, as part of the Volvo Low Impact Green Heavy Transport Solutions (LIGHTS) project.
The rigs will be added to DHE's existing fleet of more than 500 Volvo trucks operating across North America.
DHE will begin operating the two VNR Electric trucks out of its Ontario, California, facility, which manages a fleet of 40 trucks. The electric trucks will run daily routes varying between 60 and 80 miles, transporting goods from Ontario to warehouses throughout Southern California.
The trucks will collect performance data under various operating conditions, producing real-world data on the trucks' power, performance and range.
Nikola refutes fraud claims from short-seller
Nikola Corporation on Friday released a statement refuting claims of fraud made about the company by short-seller Hindenburg Research.
The report calls Nikola an "intricate fraud built on dozens of lies over the course of its founder and executive chairman Trevor Milton." Hindenburg also claims to have evidence, including recorded phone calls, text messages, emails and more that detail false statements by Milton.
"Yesterday, an activist short-seller whose motivation is to manipulate the market and profit from a manufactured decline in our stock price published a so-called "report" replete with misleading information and salacious accusations directed at our founder and executive chairman," Nikola's statement reads. "To be clear, this was not a research report and it is not accurate. This was a hit job for short sale profit driven by greed. We have nothing to hide and we will refute these allegations."
Nikola goes on to say it has retained the law firm Kirkland & Ellis LLP to evaluate potential legal recourse against Hindenburg and "any others acting in concert." Nikola adds that it plans to file a complaint with the U.S. Securities and Exchange Commission.
"We respect the rights of investors and the integrity of the market and will be back to you after we have advanced the process with the SEC. Most importantly, Nikola remains focused on delivering on the promises we've made to our stakeholders."
BestPass releases new national, regional toll transponders
Toll management provider BestPass recently released two new transponder options for carriers that offer nationwide and regional toll coverage.
BestPass' Complete Pass Scout includes three tolling technology protocols and covers 100% of major U.S. toll roads.
The Horizon Scout transponder, which includes two toll technology protocols, offers regional coverage in California, Colorado, Florida, Kansas, Oklahoma, Texas, South Carolina and Washington state.