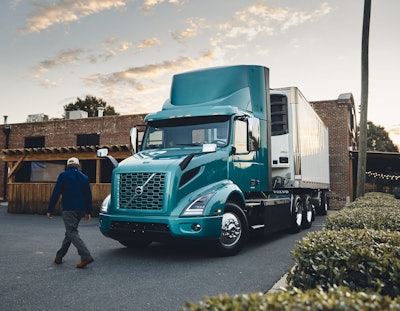 The electrified future is here. At least Volvo's version of it, anyway.
Volvo Trucks North America (VTNA) on Thursday said it was kicking off commercial sales of its zero tailpipe emission, battery-electric VNR in the North American market, with production scheduled to start in February. The truck will be built from the company's New River Valley plant in Dublin, Virginia.
Brett Pope, VTNA director of electric vehicles, noted growing urbanization and evolving consumer buying habits have changed transportation needs, prompting a greater need for electric solutions that bring along environmental benefits that include quieter cities and better air quality.
VTNA Vice President of Strategy, Marketing and Brand Management Magnus Koeck said the company is working individually with its customers to define their needs, their routes, their applications "and not the least how to handle charging, infrastructure for charging and power supply as well as secure dealers readiness," he said. "At this point of time we expect a greater interest from markets like California and New York as they have incentives available, but this will of course change over time."
Beginning with buses, Volvo has been working on electromobility for more than a decade and has more than 5,000 of the battery-powered units in operation worldwide. The VNR Electric platform is mostly based on the European Volvo FE Electric trucks, but fine tuned for the North American market.
The VNR Electric – a truck VTNA President Peter Voorhoeve called "the safest and cleanest truck on the road" – is designed for local and regional distribution applications like including food and beverage and pick-up and delivery routes, and can be spec'd as a single axle straight truck (GVWR of 33,200 lbs.), a 4×2 (66,000-lb. GCWR) or 6×2 tractor (up-to 82,000-lb. GCWR).
The VNR Electric is about 4,000 pounds heavier than its diesel sibling due to the onboard batteries.
The driveline allows for a maximum speed of 65 miles per hour and the truck's 264-kWh lithium-ion batteries, which charge up to 80% within 70 minutes, have an operating range of up to 150 miles based on the truck's configuration.
A pair of electric motors provide 455 hp and 4,051 lb-ft of torque through a two-speed I-Shift transmission.
Regenerative braking, duty cycle dependent, can increase range by pumping up to 15% back into the battery. Battery monitoring technology relays the state of health for the energy source in real time, streamlining service needs.
Speaking of service
Along with the VNR Electric rollout, VTNA also announced special financing and insurance solutions through Volvo Financial Services (VFS), service and support bundles available for ease of ownership throughout the life cycle of the new truck model.
"Even early adopters want peace of mind," said Mark Curri, senior vice president of uptime and customer support.
Volvo's new Gold Contract service offering, Curri said, is a consultative approach that includes easy-bundle payment options from VFS and premium uptime services from VTNA, and comes standard with the VNR Electric. The service offering includes scheduled and preventative maintenance, towing and vehicle repair – including the vehicle's lithium-ion batteries and the complete electromobility system – and a battery monitoring service. Curri noted that battery life span is about 8 years.
Customers will also receive Volvo's Remote Diagnostics, Volvo Action Service and ASIST via the Volvo Trucks Uptime Center, which offers 24/7 customer support.
Additionally, VFS offers flexible finance and lease options for the VNR Electric model along with financing for the stations needed to charge it.
Turning on the LIGHTS
By collaborating with 14 other organizations in the Volvo Low Impact Green Heavy Transport Solutions (LIGHTS) project in Southern California, Voorhoeve said the company gained experience in the electric field, including the truck's supporting ecosystem.
With a goal to transform goods movement, the Volvo LIGHTS project brought together public and private stakeholders to design an end-to-end support system for the wide-scale electrification of commercial trucking. Alongside rigorous real-world fleet trials, the project created a dealership service model for sales and maintenance, developed best practices to implement reliable and cost-effective heavy-duty charging infrastructure, and launched next-generation training programs for technicians and first responders. The project will continue to gather real-world operational data through 2021.