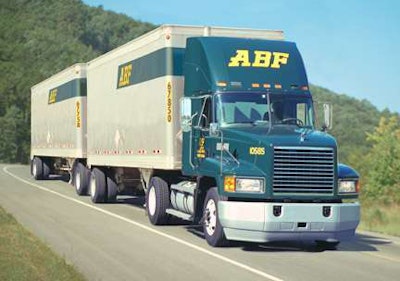 Trucking news and briefs for Tuesday, Jan. 12, 2021:
ABF Freight president to retire later this year
Tim Thorne, president of ArcBest (CCJ Top 250, No. 17) less-than-truckload carrier ABF Freight, will retire effective June 30, 2021, after a 31-year career with the company, ArcBest announced Monday.
Seth Runser, ABF vice president of linehaul operations, will be promoted to the new role of ABF chief operating officer, effective Feb. 1, 2021, and will become ABF president on July 1, 2021.
Thorne has been president of the company since October 2014. He joined ABF in 1990 as a supervisor assistant after serving as a captain in the U.S. Army. Prior to becoming president, Thorne held increasing roles of responsibility — as a service center manager in Alabama, Tennessee and Pennsylvania, as a regional vice president – operations in Utah and as vice president – linehaul operations.
"Over the past three decades, Tim has made significant and meaningful contributions to our company as ArcBest has expanded and diversified to meet customers' needs," said Judy R. McReynolds, ArcBest chairman, president and CEO. "He has approached each role with integrity, enthusiasm and excellence. I thank Tim for his dedication and longtime service to our organization, and I wish him, his wife Diane and their family the very best. He will be greatly missed."
Real estate firm acquires small trucking company
Phoenix Logistics, an affiliate of national private real estate firm Phoenix Investors, has acquired nine-truck Sam Dunn Express, a regional asset-based trucking company based in Longview, Texas.
The carrier will become part of Phoenix National Transportation, a newly formed trucking company. PNT will provide regional and other over-the-road transportation services in northeast Texas and nearby states, catering to the food, beverage and alcohol industries.
Sam Dunn will be absorbed by Phoenix Logistics and become its 10th location offering distribution and fulfillment services for local and regional customers.
Phoenix Logistics offers services such as inventory management and monitoring, cross-docking and transloading, case picking, reverse logistics, and vendor management. To accommodate these services, the 700,000-square-foot facility, located at 4350 West Loop 281 in Longview boasts 36 dock doors and two rail spurs that split into 9 interior tracks.
Pilot partners with factoring firm to expand offerings for fleets
Pilot Company and RTS Financial announced Monday a fuel and factoring partnership to work with fleets to provide funding, fuel and other services.
Dedicated teams from Pilot and RTS will work with carriers by combining Pilot Company's cross-network bundle of fuel savings, credit, truck maintenance and loyalty rewards with favorable advance rates and same-day funding services from RTS.
"We are focused on initiatives that deliver savings, efficiency and convenience to our fleet customers," said Shameek Konar, CEO of Pilot Company. "We're thrilled to partner with a highly regarded provider like RTS to offer an integrated service solution for factoring and fuel that helps trucking companies access the resources they need to succeed and grow."
More information about the partnership can be found here.