Trucking news and briefs for Monday, Aug. 30, 2021:
HOS suspended for Hurricane Ida emergency relief haulers
The Federal Motor Carrier Safety Administration's Southern and Western Service Centers issued a Regional Emergency Declaration, suspending certain requirements of Part 395 of the Federal Motor Carrier Safety Regulations for certain carriers in six states affected by Hurricane Ida, which made landfall around midday Sunday along the southeastern Louisiana coast as a Category 4 storm.
The declaration covers carriers and truck drivers providing direct assistance to the emergency related to Hurricane Ida in Alabama, Arkansas, Louisiana, Mississippi, Tennessee, and Texas. The declaration exempts these carriers and drivers from 49 CFR Part 395.3, maximum driving time for property-carrying vehicles.
Carriers transporting supplies, goods, equipment and fuel,or providing other assistance in the form of emergency services during the emergency related to Hurricane Ida, into the affected states can operate under the exemption.
The declaration is effective through the end of the emergency, or through Sept. 28, whichever is sooner.
Uber Freight trailer pool expands to Georgia
Uber Freight said its affiliate drop and hook trailer pool company, Powerloop, is expanding into Georgia.
With Powerloop, drivers can drop off and pick up preloaded trailers to get back on the road faster, enabling more than a 30% reduction in live loading and unloading dwell time, Uber Freight said.
Since its inception, the Powerloop carrier base has grown by thousands in Texas and California, operating out of hundreds of Fortune 500 customer facilities. In 2020, the number of loads using Powerloop trailers increased by approximately 40%, while carrier density grew 10x. Today there are more than 7,000 carriers leveraging the Powerloop network.
CVSA bringing back in-person training with roadside course
CVSA will resume in-person, industry-only roadside inspection training courses with a week-long training course on driver regulatory roadside inspection requirements and out-of-service conditions Nov. 1-5 in Camp Hill, Pennsylvania. This will be the Alliance's first industry roadside inspection training course since November 2019. The deadline for registration is Friday, Oct. 22.
This course includes information on regulatory definitions, intrastate vs. interstate operations, commercial driver's license and driver qualification requirements, hazardous materials, the updated 2020 U.S. hours-of-service rules, annual and trip inspections on commercial motor vehicles, human trafficking and the DataQ filing process.
This course is intended to provide industry with training to better understand the roadside regulatory requirements. The goal of the training is to provide each carrier with the tools and knowledge to achieve compliance with the roadside safety regulations and a better understanding of the relationship between regulatory requirements and out-of-service conditions.
ContainerPort Group expands with terminal in New Orleans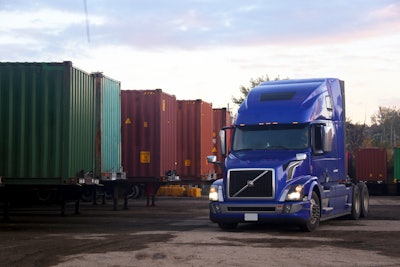 ContainerPort Group will open a new trucking terminal in New Orleans, Louisiana – its 26th terminal overall and third along the Gulf of Mexico.
CPG Executive Vice President of Trucking Joey Palmer said the company's existing terminal in Mobile, Alabama, has a few drivers who run to New Orleans, "and with the increased demand for drayage services from our customers, we felt this was the time to find a permanent location near the port."
A brief drive to both the Port of New Orleans and the Norfolk Southern rail ramp, the new terminal features a secured yard on-site for contractors and their parked vehicles. In addition, CPG is backed by an extensive network of independent contractors and is celebrating 50 years in business in the month of September.