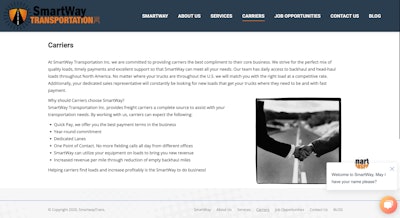 Transport Investments, a provider of heavy haul, flatbed and specialized transportation and logistics services, has acquired multi-modal freight brokerage and transportation management company SmartWay Transportation.
Based in Overland Park, Kansas, SmartWay offers mainly full and partial truckload (flatbed, reefer, specialty and dry van) transportation brokerage and logistics services through a national network of carrier partners. The company handles shipments for more than 800 customers across various end markets in partnership with a vast network of nationwide carriers.
"The partnership with Transport is an exciting new chapter in SmartWay's history of growth and innovation," said Chad Jegen, President and Co-Founder of SmartWay. "We look forward to maintaining the same leading service while offering our customers access to a substantially larger suite of logistics services."
Transport Investments is one of the largest carrier groups in the U.S. and Canada, the combined group handles annual volume of more than 500,000 loads through its network of terminals, owner-operators and third-party carriers.
"We are excited to partner with the SmartWay team and bring them into the Transport family," R. Bruce McAdams, CEO of Transport, commented. "The company's sales and service culture along with deep relationships along the supply chain are complementary to Transport's capacity solutions and other value-added services."