Trucking news and briefs for Wednesday, March 23, 2022:
ATA's Tonnage Index remained flat in February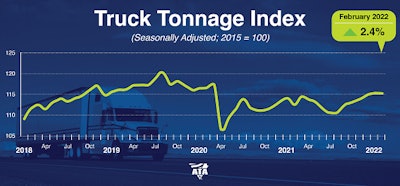 American Trucking Associations' advanced seasonally adjusted (SA) For-Hire Truck Tonnage Index was unchanged in February after increasing 0.4% in January.
In February, the index equaled 115.3 (2015=100), the same as January.
"February was the first month that the index didn't increase since July," said ATA Chief Economist Bob Costello. "Despite a string of gains, the index is still off 1.8% from March 2020. The index is also off 4.2% from the all-time high in August 2019. It is important to note that ATA's data is dominated by contract freight, not spot market."
Costello added that freight demand is still strong, but carriers are constrained with capacity due to the driver and equipment markets.
"The spot market has been surging as these carriers can't haul all of the freight they are asked to move," he said. "So the fact that the tonnage index hasn't fully recovered is a supply problem, not a lack of demand. Other ATA data shows that for-hire carriers are operating around 7% fewer trucks, both company and independent contractor equipment, than prior to the pandemic."
Compared with February 2021, the SA index increased 2.4%, which was the sixth straight year-over-year gain and the largest over that period. In January, the index was up 0.9% from a year earlier. In 2022, year-to-date and compared with same period in 2021, tonnage was up 1.7%.
The not seasonally adjusted index, which represents the change in tonnage actually hauled by fleets before any seasonal adjustment, equaled 104.3 in February, 4.3% below the January level (109).
DOT extending comment period on oral fluid testing
The U.S. DOT is extending the comment period for a rulemaking proposal that would allow oral fluid drug testing for truck drivers and other transportation workers.
The original comment period was set to close March 30. DOT said it has received requests from stakeholders who said the March 30 deadline didn't give them enough time to adequately respond to the proposal.
The comment period is now extended by 30 days and will close April 29. Comments can be submitted here.
In its proposal, DOT said adding oral fluid drug testing to its drug testing program procedures would "give employers a choice that will help combat employee cheating on urine drug tests and provide a more economical, less intrusive means of achieving the safety goals of the program." DOT says it does not have data on how much "cheating" occurs with urine testing, but it says it is aware the "problem exists and poses a direct threat to transportation safety."
The proposal would allow, but not require, oral fluid testing as an alternative to urine testing for use by DOT-regulated employers for required transportation industry drug testing.
TCA Truckload Strong fundraiser nets $115k
More than 300 truckload industry professionals and their guests gathered at the premier Brooklyn Bowl at the Linq Promenade in Las Vegas Monday night to raise more than $115,000 in the Truckload Carriers Association's fourth annual Truckload Strong fundraiser.
Thanks to the generosity of host Daimler Truck, all proceeds raised will help support and elevate TCA's major initiatives and programs, including its Truckload Strong campaign.
The three-hour event featured a DJ spinning chart-topping hits requested by attendees, numerous food stations, a fun photo booth, cigar rolling station, and more.
Monies were raised via bowling lane sponsorships, individual ticket sales, commemorative flashing neon LED tumblers and general donations.