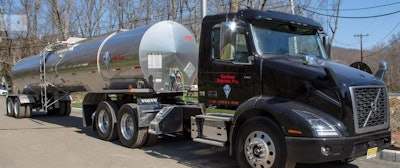 Wharton, N.J.-based Carbon Express has been acquired by Kenan Advantage Group (CCJ Top 250, No. 20), the largest tank truck transporter and logistics provider in North America. Terms of the deal were not disclosed.
Carbon Express Founder and President Steve Rush noted that after nearly 60 years in the industry, he was looking forward to "sit back and relax in my so-called golden years," but it was also important to him to find an acquisition partner "best suited for all our people to keep doing what we have started here at Carbon Express. As I am fast approaching year 79, I felt it was time. It has been a great run over 58 years."
Sixty-three truck Carbon Express transports liquid bulk products across the U.S. and into Canada, and Rush is widely recognized as an innovator in driver compensation models that migrated away from mileage-based pay.
His fleet was an early adopter of an hourly rating and pay structure, which included paying drivers overtime. Rush also eliminated sleepers from the fleet nearly 15 years ago, a move that allowed his company to not only carry more payload but also get drivers home more often while increasing comfort, as drivers are put up in hotels for any overnight work. His driver-friendly approach comes from having spent nearly two decades in the driver's seat himself.
"Trucking has been a wonderful career – both as a 19-year driver and 39 [years] as the founder and owner of Carbon Express. I love both portions and sometimes I think I actually loved driving as much as building the fleet. That tells me what most people don't understand about the driver. Most truck drivers love to drive."
Rush, a Past Chairman of the National Tank Truck Carriers Association, still expects to be involved in the industry and said he hopes to "help people become aware of how critically important sleep patterns are to keeping the drivers safe," adding that he plans to continue sharing his passion for "rating by time rather than by the mile. I am happy to report that we are gaining traction on both fronts – at least in tank truck."
This year has been a hot one for trucking acquisitions and mergers and Carbon Express is KAG's third acquisition this year. There have been 17 among CCJ's Top 250 for-hire carriers since the beginning of June, and 25 Top 250 fleets have struck 25 deals this year.