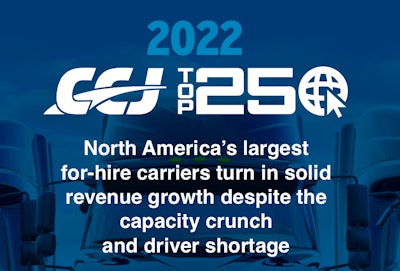 The CCJ Top 250 is the industry's most comprehensive ranking of the largest for-hire carriers in North America with U.S. operating authority. The ranking system uses revenues, equipment counts and driver numbers to generate a blended score for each carrier. The 2022 CCJ Top 250 is sponsored by Tenstreet.
With the global economy still grappling with the pandemic in 2021, the North American trucking industry persevered – and in many cases prospered – through a roller coaster year. A retail industry fueled by consumers with fistfuls of stimulus money, record-low inventory levels in the beginning of the year, global supply chain issues and surging manufacturing output in the fourth quarter combined to send contract and spot rates surging throughout the year. The top for-hire carriers that make up the 2022 CCJ Top 250 rankings managed to post impressive revenue gains despite a capacity crunch caused by shortages of equipment, drivers and general laborers.
Overall, revenues were up 17.6% among carriers in the CCJ Top 250 that reported revenue in both 2020 and 2021. A whopping 67.3% reported revenue gains of at least 10% compared to the stagnant business environment the previous year, including 41.2% who reported revenue increases of 20% or more. Just 7.8% of carriers in that group turned in year-over-year revenue declines.
Compared to last year's ranking that saw six of the nine primary operation segments post revenue losses for 2020, every segment in the CCJ Top 250 turned in revenue gains last year. The intermodal segment led the way with 29.2% revenue growth, thanks in large part to a resurgence in import activity.
[Click here to access the interactive 2022 CCJ Top 250 ranking]
Carriers in the general freight segment reported a 28.4% revenue increase, thanks to a particularly strong business conditions for parts of 2021. A healthy increase in housing starts in 2021 helped carriers in the flatbed/specialized/heavy haul segment turn in a 21.9% revenue increase compared to 2020, good enough for the third-best spot among all primary operation segments.
While significant revenue gains in 2021 compared to a turbulent 2020 should be expected from fleets in the CCJ Top 250, it is impressive that carriers managed to do so without the addition of power units or drivers. The 2022 CCJ Top 250 statistics reveal a 2.6% reduction in driver count compared to last year's ranking, from 866,983 to 844,112.
Excluding the packages/small shipments segment that increased equipment numbers by 8.7%, the total number of power units making up this year's CCJ Top 250 was almost unchanged year over year: 42.8% of carriers in the CCJ Top 250 reduced truck and tractor counts, and another 22% kept counts the same; 35.6% increased equipment counts, including just 14% that reported double-digit increases.
Acquisition market heats up
In a difficult environment to acquire new equipment or recruit new drivers, the acquisition market has heated up since last year's CCJ Top 250 report. While this year's deals lack some blockbuster announcements like TFI International's January 2021 acquisition of UPS Freight, there are plenty of notable purchases to mention.
At the end of 2021, Knight-Swift (No. 5) acquired Midwest Motor Express (formerly No. 197) for $150 million. Along with last year's purchase of AAA Cooper Transportation, the deal augments Knight-Swift's footprint in the less-than-truckload space as it continues to build out its nationwide coverage.
Schneider (No. 8) in January acquired Midwest Logistics Systems (formerly No. 103) in a $263 million deal. The Celina, Ohio-based truckload carrier has roughly $200 million in annual revenue and roughly 1,000 drivers and tractors. The addition is expected to boost revenues for Schneider's 5,000-truck dedicated operations to $1 billion annually.
Werner Enterprises (No. 13) in late November purchased NEHDS Logistics and its 400-plus straight truck operation to augment the carrier's Werner Final Mile business unit. NEHDS offers white-glove residential and commercial deliveries throughout the Midwest and Northeast.
Heartland Express (No. 42) completed a $170 million acquisition of Smith Transport (formerly No. 111) in June. Smith provides dry van transportation and other specialized services in the eastern United States with terminals in Pennsylvania, Georgia and Indiana.
Hirschbach Motor Lines (No. 49) jumped 12 spots in the CCJ Top 250 year-over-year, thanks in large part to its purchase of John Christner Trucking (formerly No. 115). Along with Lessors, which it acquired last year, the deal makes Hirschbach one of the largest refrigerated carriers in North America.
Canadian refrigerated giant Bison Transport (No. 50) in January acquired Bangor, Maine-based Hartt Transportation (formerly No. 187) in a move to strengthen its cross-border operations in the Northeast. The deal netted Bison an additional 360 tractors, 2,100 trailers and roughly 350 drivers.
Earlier this summer, P.A.M. Transportation Services (No. 58) purchased Pennsylvania-based Metropolitan Trucking (formerly No. 234), a general freight hauler with locations in New Jersey, Pennsylvania and Illinois. The $77.4 million move netted P.A.M. an additional 320 trucks and more than 1,000 trailers.
After multiple acquisitions that saw Wilson Logistics (No. 159) climb to No. 100 in last year's CCJ Top 250, the family-owned company sold a large portion of its operations and western terminals to Ashley Furniture's private carrier subsidiary in January 2022, and dropped to No. 159 this year.
There are also a couple notable exits from the 2022 CCJ Top 250. Dillion Logistics (No. 240 in last year's ranking) closed its doors in September. The Illinois-based tank carrier had 323 trucks and 341 drivers. After hemorrhaging cash for the last several years, Central Freight Lines (No. 79 in last year's ranking) ceased operations in December. The Waco, Texas-based carrier operated a fleet of more than 1,400 tractors and 1,325 drivers.
About the CCJ Top 250
Commercial Carrier Journal has ranked the top for-hire trucking companies since the late 1960s. The CCJ Top 250 is the most comprehensive ranking of active carriers. Our ranking considers not only the revenues posted by a trucking company but also its fleet size and employment base.
Rankings based strictly on revenues often capture activities that have only an indirect relationship to transportation. Blending revenue, equipment and drivers also allows for a reasonable way to capture carriers that decline to disclose revenue.
The CCJ Top 250 ranking treats all carriers under one umbrella as a single entity. Carriers with significant ownership by an individual, family or company but not organized under a single management team are treated separately. Also, carriers that went out of business or were acquired by other companies in 2021 and 2022 aren't listed. Instead, only active carriers are displayed. For a detailed explanation of the CCJ Top 250 ranking methodology, see "Ranking Methodology" below.
The CCJ Top 250 begins with data provided by CCJ parent company Randall Reilly's RigDig Business Intelligence based on data supplied by carriers to the Federal Motor Carrier Safety Administration on their required Form MCS-150 filings. Because this data can be – although rarely is – as much as a couple of years old, and because the MCS-150 does not include information on revenues, all carriers included in the ranking were given an opportunity to review FMCSA data for freshness and to supply information not included on the form. In some cases, CCJ supplements its data with other official sources, such as reports filed with the U.S. Securities and Exchange Commission.
If a carrier declines to verify or update the data that we provide it for review, we presume the publicly available data is valid and use it for ranking purposes. Carriers are not allowed to opt out of the ranking.
Ranking methodology
CCJ's ranking of companies is a blended scale based on a combination of revenue, total power units and number of drivers rather than a ranking simply by revenue. Companies considered for inclusion in the CCJ Top 250 were ranked from high to low by revenue, power units (weighted based on the type of power unit as discussed below) and drivers and assigned a rank in each category.
The numerical rank stored in each of the three fields was added together (revenue rank + vehicle rank + driver rank) to provide a rank sum. This sum then was ordered to provide the overall ranking assigned to each carrier, with the lowest sum receiving the highest rank.
A number of carriers failed to report actual 2021 revenue. In order to be included in the blended ranking, they were assigned – for blended ranking purposes only – a calculated revenue figure determined by multiplying the carrier's total number of power units by the average of the bottom 50% of revenue per power unit performers for the companies in that carrier's primary segment.
Calculated revenue is discounted by using the average of the bottom 50% of performers so that carriers failing to report revenue are not given an undue advantage in the ranking. Calculated revenue almost always will differ from actual revenue, of course, but the effect on the blended ranking likely is slight.
The power unit ranking, which represents an investment as much as a physical-count measure of trucking assets, takes into account the difference between tractors and trucks. The assumption is that a for-hire carrier with 1,000 tractors has a greater investment in equipment than one with 1,000 straight trucks. For the purpose of the blended rank only, a truck was weighted at half the value of a tractor.