Trucking news and briefs for Tuesday, April 4, 2023:
TravelCenters of America getting closer to BP acquisition
A last-minute bid from convenience store operator ARKO Corp., didn't slow down BP Products North America Inc.'s bid to acquire TravelCenters of America. TA on Monday said it filed its definitive proxy statement with the Securities and Exchange Commission in connection with its pending acquisition by BP. Under the terms of the pending transaction, BP will acquire all of the outstanding shares of TA common stock for $86 per share in cash.
The Special Meeting of Shareholders to approve the pending acquisition of TA by BP is scheduled for Wednesday, May 10 at 9:30 a.m. ET. Subject to shareholder and regulatory approval, the transaction is expected to close three business days after the Special Meeting.
ARKO Corp., one of the largest convenience store operators in the U.S. with 3,200 locations under various brands, last week issued a letter urging the Travel Centers of America's Board of Directors to consider ARKO's proposal to acquire TravelCenters – a bid the TA braintrust had already rejected.
Cummins investing $1B in manufacturing sites
Cummins says it is investing more than $1 billion across its U.S. engine manufacturing network in Minnesota, Indiana, North Carolina and New York. The investment will provide upgrades to those facilities to support Cummins' fuel agnostic engine platforms that will run on low carbon fuels, including natural gas, diesel and eventually hydrogen.
Cummins President and CEO Jennifer Rumsey said electrolyzer production in Minnesota and investment in its Indiana, North Carolina and New York facilities are reflective of Cummins' "dual path approach of advancing both engine-based and zero-emission solutions – an approach that is best for all of our stakeholders and our impact on the planet. We can't do this alone and are grateful for the continued partnership and collaboration with congressional leaders and the Biden Administration."
Cummins' plans to invest $452 million in its Jamestown Engine Plant to upgrade its 998,000 square-foot facility in Western New York to produce the industry's first fuel-agnostic internal combustion engine platform that leverages a range of lower carbon fuel types.
At the Fridley, Minnesota, facility, Accelera by Cummins will soon manufacture electrolyzers, which are a critical piece of the green hydrogen economy. The Cummins Power Systems factory is a 1.1 million square feet full-service facility, concentrating on design, product, service engineering and manufacturing located just north of Minneapolis. Established in 1969, Fridley employs over 900 and will plan to dedicate 89,000 square feet of the existing facility to electrolyzer production starting April 24. This is a $10 million investment that will support 100 new jobs by 2024.
Ryder adding BrightDrop electric vehicles to lease and rental fleet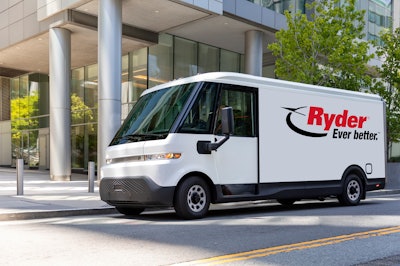 Ryder System, Inc., on Monday said it plans to introduce 4,000 BrightDrop Zevo 600 and Zevo 400 electric vans to its lease and rental fleet through 2025, with the first 200 to be ordered this year. The expanded offering will enable Ryder customers to test and broaden their EV footprint, enhance the driver experience, and accelerate their sustainability initiatives.
The new electric van has a range of up to 250 miles, a payload support of about 2,000 to 3,400 lbs., and a cargo capacity of 400 to more than 600 cubic feet. Ryder plans to deploy model year 2023 Zevo 600 electric vans in its rental fleet in California, Dallas-Fort Worth, and New York City later this year. The new 2024 Zevo 600 and Zevo 400 models for lease and rental customers are expected to be available as early as summer 2023 and into the first quarter of 2024.
Hazard light noncompliance lands 24k Cascadias in a recall
Daimler Trucks North America is recalling a large number of Freightliner Cascadia models for a noncompliance issue related to the hazard lights.
DTNA is recalling approximately 24,282 model year 2020-2021 Freightliner Cascadia trucks in which the hazard warning lights may flash improperly during an Advanced Braking Assist event. As such, these vehicles fail to comply with the requirements of Federal Motor Vehicle Safety Standard number 108, "Lamps, Reflective Devices, and Associated Equipment."
Dealers will update the software controlling the hazard warning lights for free. Owner notification letters are expected to be mailed May 19. Owners can contact DTNA customer service at 1-800-547-0712 with recall number FL851. NHTSA's recall number is 23V-208.