Trucking news and briefs for Tuesday, Nov. 21, 2023:
CargoNet offers cargo theft prevention tips for Thanksgiving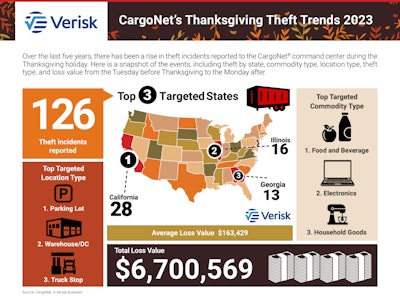 Cargo theft recording firm CargoNet is warning those in the freight transportation industry "that the threat of cargo theft activity is extremely high this upcoming Thanksgiving holiday."
Cargo theft activity has been steadily increasing since November 2022, with the average number of reports filed per week increasing to 51 per week, up 64% when compared to historical data between January 2012 and October 2022. Between Oct. 1 and Nov. 11 of this year, that number was even higher – 66 reports per week – a 113% increase from the previous decade.
The biggest active threat is that of strategic cargo theft, in which thieves seek to obtain a load by either impersonating a legitimate carrier, using an authority they have registered or otherwise have access to, or deceiving a motor carrier into giving them credentials to vital accounts.
There is also an ever-present threat of full truckload theft, CargoNet said, which is particularly high during the Thanksgiving holiday period due to the likelihood that trucks and freight is left unattended for extended periods of time.
"CargoNet believes that the risk during this upcoming holiday is unlike any recent year," the firm said. "Strategic cargo theft groups over the past year have shown that they ramp up activity around major holidays because they understand logistics brokers will be under pressure and more likely to make mistakes. CargoNet is concerned recent spikes in theft of unattended, loaded conveyances, particularly in Dallas-Fort Worth, Atlanta, and Southern California will continue into the holiday."
CargoNet offers the following tips and best practices for mitigating the risk of theft during Thanksgiving:
[Related: Cargo theft is skyrocketing. Why is theft on the rise and what strategies are thieves using?]
STG Logistics completes acquisition
Port-to-door logistics company STG Logistics has completed its acquisition of Best Dedicated Solutions an over-the-road transportation provider focused on a variety of services and modes.
The acquisition agreement was previously announced on June 1. With the acquisition complete, STG adds expedited, dry van, temperature control and flatbed OTR transportation offerings to its existing intermodal, drayage, and facility-based containerized logistics services.
Danny Esplin, CEO of BDS, is moving into the role of SVP of OTR Solutions with STG, serving as a senior member of STG's executive leadership team.
"We are excited to move forward as one organization with the ability to now offer customers a complete containerized logistics solution," said Paul Svindland, CEO of STG.
According to Geoff Anderman, President and COO of STG, the service-oriented approach and scalable platform BDS brings fits in with the customer-centered approach and culture STG embraces.
[Related: Best Dedicated Solutions acquired by port-to-door logistics company]
UAW members ratify contracts at Big 3 automakers
The United Auto Workers union announced Monday that its members have ratified new contracts at the Big 3 automakers -- Ford, General Motors and Stellantis. Across the three companies, 64% of voting members voted in favor of the agreements.
According to UAW, the agreements include substantial wage increases for all members, raises for tens of thousands of members, and tens of billions of dollars in product and investment commitments from the companies.
Contract provisions include:
Raises from at least 33% to over 160%
Faster progression to top pay
Reopening Stellantis' Belvidere, Illinois assembly plant
Commitments at all three companies to bring electric vehicle and battery jobs under the union's national agreements
Improvements in retirement security for all active and retired members
UAW members also recently ratified a new contract at Mack Trucks, ending a 39-day work stoppage at the company's facilities in Pennsylvania, Maryland and Florida.
[Related: Mack, union reach deal to end strike]
Small number of severe-duty Peterbilts with Cummins nat-gas engines recalled
Paccar is recalling a small number of severe-duty Peterbilt 520 units equipped with Cummins L9N natural-gas engines.
The engines themselves are subject to a recall from Cummins, as previously reported, because the rear lifting bracket that attaches to the engine cylinder head may be insufficiently secured, which can allow it to detach.
Only nine Peterbilt 520 units are included in the recall, all of which are 2024 model year. National Highway Traffic Safety Administration documents state that a rear lifting bracket that detaches while the engine is being lifted can result in the engine falling or swinging, increasing injury risk.
Dealers will inspect and replace the flanged stud in the rear lifting bracket, as necessary, free of charge. Owner notification letters are expected to be mailed Jan. 7, 2024. Owners can contact Peterbilt customer service at 1-940-591-4220 with recall number 23PBK. NHTSA's recall number is 23V-749.