Trucking news and briefs for Tuesday, Aug. 3, 2021:
Amwins acquires National Truck Underwriting Managers, Inc.
Amwins, the largest independent wholesale distributor of specialty insurance products in the U.S., has acquired National Truck Underwriting Managers, Inc. ("NTUM"), a truck insurance wholesaler offering access to primary liability, physical damage and motor truck cargo package policies.
"This partnership provides us with the opportunity to enhance and diversify our delegated underwriting capabilities and transportation offerings," said Scott M. Purviance, CEO of Amwins. "NTUM is the gold standard in service and expertise and we are proud to welcome Jim Jr., Justin, Jim III and the rest of their team to the firm."
NTUM will join Amwins' Underwriting Division, complementing the services of Amwins Transportation Underwriters and working in conjunction with trucking industry specialists within the firm's Brokerage division.
With an ability to write coverage in 46 of the continental United States, NTUM focuses on accounts of up to 300 power units with the additional capability and access to cover larger fleets. Additionally, NTUM's location in Minnesota further expands Amwins' geographic footprint.
"As part of the Amwins family, we have the opportunity to expand our resources for both our employees and our clients," says Jim Joyce, Jr President of NTUM. "We look forward to continuing to serve our agents, producers and markets while offering the best possible quotes on qualified accounts and delivering superior service."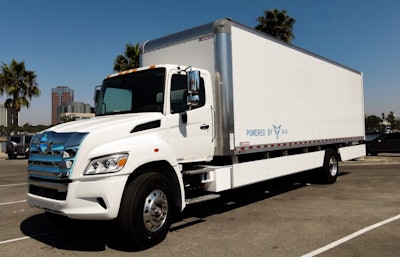 Xos clears hurdle for public listing
NextGen Acquisition Corporation confirmed Monday that its Registration Statement on Form S-4 in connection with the previously announced business combination with Xos, Inc., has been declared effective by the Securities and Exchange Commission.
A special meeting of stockholders of NextGen Acquisition Corporation scheduled for August 18, and upon closing, Xos – a manufacturer of fully electric Class 5 to Class 8 commercial vehicles – will be listed on the NASDAQ under the new ticker symbol "XOS".
NextGen stockholders of record as of the close of business on July 2, 2021 will be mailed the proxy materials in connection with the Business Combination and will be entitled to vote at the special meeting. The boards of directors of Xos and NextGen have unanimously approved the Business Combination.
"We are pleased to have achieved this milestone and to announce a date for the Special Meeting of NextGen stockholders," said George Mattson, Co-Founder and Co-Chairman of NextGen. "As we enter the final stages of consummating our merger with Xos, we look forward to bringing Xos to the public markets and working closely with the new Xos to realize its ambitious and achievable vision to decarbonize commercial fleets."
"2021 has been a year of tremendous growth for us," said Dakota Semler, Co-Founder and CEO of Xos. "We broadened our customer relationships and deepened important partnerships. We invested in key hires, and launched new business units. Our merger transaction will accelerate our goal of a zero-emissions future by allowing Xos to introduce electric vehicles and fleet support networks to more locations in the US and abroad."
Subject to stockholder approval and other customary closing conditions identified in the business combination agreement, the Business Combination is expected to close as soon as practicable following the special meeting.
Detmar Logistics
orders 300
Hyliion tractors
Detmar Logistics has executed a reservation agreement for 300 Hyliion Hypertruck ERX Class 8 semi-trucks. The agreement is part of Hyliion's latest collaboration with the Texas-based frac sand solutions provider, whose reservation marks the next step in their continued effort to fully electrify their fleet over the next five years.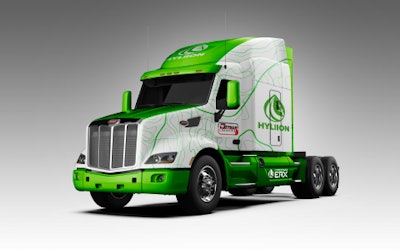 The Hypertruck ERX is an electric powertrain that is recharged by an onboard natural gas generator for Class 8 commercial trucks that aims to provide lower operating costs, emissions reductions, and superior performance. Utilizing the 700+ commercial natural gas vehicle filling stations across North America, it enables long range and quick refueling, and when fueled with renewable natural gas, can provide net-negative carbon emissions to commercial fleets.
An early adopter of electrification in the oil and gas industry, Detmar placed an initial order of 10 Hyliion Hybrid Electric units earlier this spring. The successful program and deployment — met with positive feedback from Detmar's operations team, drivers, and customers — generated further interest in the Hypertruck ERX solution and a longer-term commercial relationship with Hyliion.
"We are very excited for the opportunity to reserve a large order of Hypertruck ERX units and be one of the first trucking companies to define our path to full electrification in a bold way," said said Matt Detmar, president and CEO of Detmar Logistics. "Hyliion has been an exceptional partner as we've converted our trucks to their diesel hybrid system, and the positive feedback we've received from our customers is only matched by their interest in achieving net-negative carbon emissions with RNG. It's certainly opening new doors for our business."
"Our drivers are also eager to get behind the wheel of this new technology," Detmar added. "They've had an outstanding experience with the hybrid trucks and their anticipation for the Hypertruck ERX™ is even greater."
Hyliion will begin showcasing the Hypertruck ERX demonstration units to the Detmar team in late 2021, with trials running in 2022.
Paccar recalls 1,400 trucks for windshield defrost issue
Paccar is recalling approximately 1,441 model year 2022 Kenworth W900, T880 and T680 tractors for an issue with the windshield defrost system.
According to National Highway Traffic Safety Administration documents, the HVAC controls in the affected units may have insufficient soldering between the potentiometer(s) and the PCBA board, resulting in windshield defrost failure.
Dealers will replace the HVAC control head for free. Owners can contact Paccar customer service at 1-425-828-5888 with recall number 21KWE. NHTSA's recall number is 21V-546.
I-40 bridge reopened in both directions ahead of schedule
The I-40 Hernando DeSoto Bridge over the Mississippi River is fully reopened as of Monday afternoon at 3 p.m.
The eastbound lanes of the bridge reopened Saturday, July 31, at 10 p.m. The remaining work and cleanup in the westbound lanes were completed Monday, allowing the westbound lanes to reopen ahead of the expected Aug. 6 completion date.
Ramps previously closed along I-40 westbound will be reopening. The ramp from Metal Museum Drive to I-55 south will remain closed. The currently closed right lane from Riverside Drive to I-55 south will also remain closed. All other ramps around the I-55 and Crump interchange will be reopening.
The bridge was closed in May when an inspector found a large crack in a steel support beam.
Aside from fixing the crack that was identified, repair crews also strengthened the bridge by repairing an additional 16 steel plates.