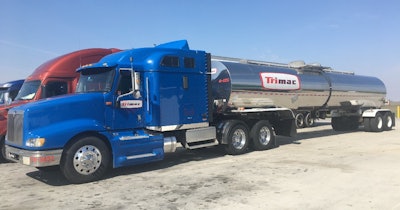 Trimac Transportation (CCJ Top 250, No. 63) has acquired Zengistics Inc., a technology-based freight brokerage company that provides non-asset-based transportation solutions.
This is Trimac's second acquisition this month, heaving earlier picked up Hesperia, California-based bulk hauler Double Eagle Transportation.
Zengistics marks Trimac's first foray into the non-asset transportation space, which Trimac Transportation President and CEO Matt Faure called "an exciting benchmark in our Trimac history."
"With the additional capabilities of Zengistics' technologies and capacity, this will add an accelerator to our top line growth and provide synergies to our base trucking operations," he added. "We are poised to realize substantially stronger growth by leveraging our partnership with the Zengistics team in the non-asset-based segment."
Zengistics is a brokerage company that utilizes a "technology first" approach to transportation and brokerage, operating as a third-party logistics company that specializes in connecting shippers with carriers who provide capacity to transport dry van, reefer, and flat deck-based freight across North America. Zengistics, founded in 2014, will remain a standalone company and will retain its brand name and corporate headquarters based in Austin, Texas.