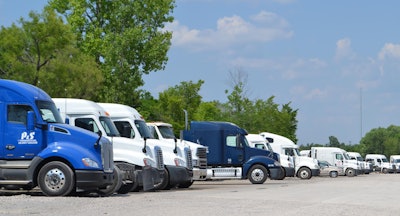 PS Holdco, the parent company of Birmingham, Alabama-based flatbedder PS Logistics, has purchased all substantial transportation assets of Patriot Transit and Patriot Logistics, a privately owned interstate trucking and logistics provider that specializes in flatbed shipping to the Gulf Coast and Southwest.
Founded by David Spencer and Rex Ready and based in Houston, Texas, Patriot maintains a fleet of 75 drivers. The acquisition will provide Patriot and its customers with additional capacity, new service offerings and increased economies of scale. PS Logistics (CCJ Top 250, No. 36) provides full-service transportation services, including asset-based transportation, non-asset-based transportation, brokerage, third-party logistics managed transportation, warehousing, and supply chain services and is one of the largest flatbed transportation and logistics providers in the United States.
"Patriot brings great drivers, employees and freight expertise to our company as well as our customers," said PS Logistics President Houston Vaughn.
Spencer noted PS Logistics "will be an amazing partner for our business," adding both companies are family-oriented and share positive workplace practices, "creating an ideal environment for everyone to grow and prosper. Over the last several decades, Rex and I built a successful trucking operation serving outstanding customers with dedicated employees. We are pleased that PS Logistics will continue that tradition with the same commitment to service with our experienced and dedicated drivers and employees."
Since 2007, PS Logistics has acquired 22 trucking and brokerage operations. Organizationally, Patriot will be operated by Blair Logistics, a subsidiary of PS Logistics, under the leadership of Spencer, Ready and Blair CEO Jay Bowling.