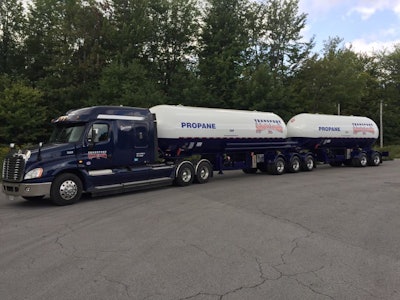 Trimac Transportation (CCJ Top 250, No. 64) has acquired Transport Sylvain Lasalle, a provider of bulk pressure transportation services in Eastern Canada, the company announced Thursday. The Joliette and St. Hyacinthe, Quebec-based company is a leading carrier of propane and butane gas for end users and distribution sites.
Trimac Wednesday onboarded a team of new drivers and one terminal manager, and added a fleet of 28 tractors and 30 trailers.
"This strategic move allows us to expand our reach in Eastern Canada, strengthen our service capabilities, and deliver unparalleled service to our customers," said Matt Faure, President amd CEO at Trimac. "With this acquisition, we look forward to a bright future ahead."
Trimac has made two acquisitions this year, having picked up American Industrial Partners (AIP) Logistics, a Central Ohio-based specialist in bulk terminal services, transportation and warehousing for the plastics, liquid chemical, food grade storage and metal production industries, in April.
Sylvain Lasalle, the company's founder and namesake, will assist during the transition period. Lasalle founded the company in 1993 and grew the fleet to become an authorized loader at commercial propane refineries across Quebec and Ontario.
"I am grateful to all of my employees, customers and partners who have been a part of this journey," said Lasalle. "It has been an honor to lead this company."
Trimac's latest deal is at least the eighth acquisition made this year by a CCJ Top 250 fleet. Forward Air Corporation (No. 57) in January agreed to acquire full-service expedited LTL carrier Land Air Express for $56.5 million and R.E. Garrison Trucking (No. 124) completed the acquisition of certain assets of Boaty's Transport. In March, Big G Express (No. 173) acquired RTR Transportation and Knight-Swift Transportation (No. 5) announced its acquisition of U.S. Xpress (No. 19). Earlier this month, TFI International Inc. (No. 4) agreed to acquire Siemens Transportation Group and has completed the acquisition of Hot Line Freight Systems.