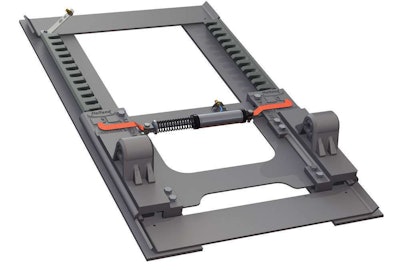 SAF-Holland has released a new Severe-Duty Slider System for its fifth wheels that features an 80,000-pound vertical load and 200,000-pound drawbar pull capacity.
Designed to work with Holland FW35, FW33, and FW0070 fifth wheel models, inboard and outboard mounting systems are adaptable to all fifth wheel configurations including Holland Kompensator and No-Tilt wheels. Kompensator mounting systems provide fifth wheel top plate side-to-side cradle movement on uneven terrain, relieving torsional stress and twist for high CG rigid trailers. No-Tilt mounting systems provide for seamless conversion to a rigid No-Tilt fifth wheel for applications where articulation is provided on the trailer.
The severe-duty slider's modular design allows fifth wheel heights to be changed easily. Available bracket-mounting heights range from 8-inch to 11-inch, and can be easily changed to meet all OEM and heavy-haul customer configurations. The severe-duty slider system provides slide travels – 12-inch, 24-inch, 36-inch, 48-inch, 60-inch, and 72-inch to accommodate a wide range of weight distribution and clearance needs. Two-inch slide increments enable versatile positioning to meet any payload distribution requirement.
New visual plunger lock indicators are located toward the front of the slide bracket for easy visibility so drivers can quickly ensure that the slide bracket is securely locked in place. In addition, the in-cab air slide release control allows drivers to easily reposition the fifth wheel when required.