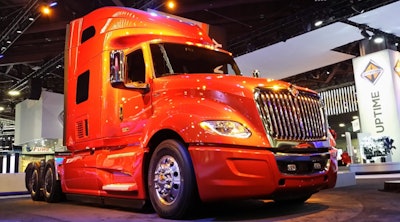 FlowBelow Aero announced new partnerships with Navistar and Strick trailers during a press event Sunday at ATA's Technology & Maintenance Council (TMC) Annual Meeting in Atlanta.
In partnering with Navistar, FlowBelow says its Quick Release wheel covers and Tractor AeroKit are now immediately available as optional equipment on all International LT and RH Series trucks, and can be ordered through the International dealer network to be installed at the International Truck Plant and Truck Specialty Center.
"The new International LT and RH Series have proven to be some of the most technologically advanced, fuel efficient trucks available," says Josh Butler, founder and CEO of FlowBelow Aero. "With the addition of the FlowBelow Tractor AeroKit system to on-highway LT and RH Series trucks, we are providing fleets with even higher fuel efficiency while reducing total cost of ownership."
FlowBelow says its products will be warranted by International Truck and will be made available for aftermarket purchase through all International Truck dealers in the U.S. and Canada.
FlowBelow already is optional at Freightliner, Kenworth and Peterbilt, and can be purchased through the Mack dealer network.
FlowBelow says its partnership with Strick is the company's first with a trailer OEM. The company says its Quick-Release wheel covers and Trailer AeroSlider system can be spec'd as a factory installed option using the Strick dealer network, with installation completed at Strick's manufacturing facility in Monroe, Indiana.
FlowBelow's Gordon Virginski, vice president of OEM and dealer programs, says the Trailer AeroSlider is the first aerodynamic product of its kind that is mounted directly to the sliding trailer suspension and that travels with the suspension. The AeroSlider uses FlowBelow's patented 'quick-release' wheel covers in combination with a fairing between the trailer wheels and aerodynamic mudflaps behind them. He says the components work together as a system to address the complex airflow around the trailer wheels and the wake behind the trailer. Additionally, Virginski says the system is designed to complement other trailer mounted aerodynamic devices such as trailer skirts and tails and offers additive fuel savings depending on the combination of devices implemented.
"The Trailer AeroSlider provides a practical way to address the aerodynamics of the trailer tandem without sacrificing durability or accessibility. By offering this system to our customers we are able to provide new and innovative options that further improve the fuel efficiency of Strick Trailers," says Justin Bell, director of engineering and warranty at Strick,
FlowBelow says its Trailer AeroSlider system was recently validated to provide fuel savings in excess of 1 percent, which is the minimum requirement for EPA SmartWay certification.