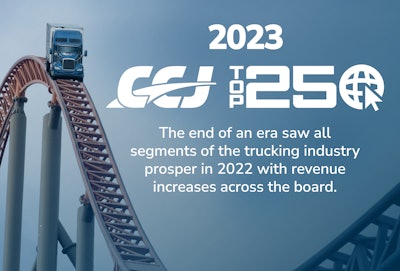 Riding the slingshot recovery that began trucking's resurgence in 2021, for-hire carriers in the CCJ Top 250 did well enough through most of 2022 to post solid revenue gains before the current downturn began in the second half of last year. Times were so good, historically speaking, that the "false positive" post-pandemic trucking climate in 2021 and 2022 makes the current market downturn seem downright bleak in comparison.
For the second consecutive year, each of the nine primary operating segments tracked by Commercial Carrier Journal whose carriers self-reported freight-related revenue data in each of the last two years finished with higher freight-related revenues compared to the previous year. Excluding carriers whose size and/or scope might otherwise skew the overall results of a carrier grouping for various reasons, the intermodal and refrigerated segments led the way, each posting 25.6% higher revenues in 2022.
Click here to download a printable PDF version of the CCJ Top 250.
The packages segment turned in the weakest performance but still finished in positive territory at 1.9% revenue growth thanks to UPS (CCJ Top 250, No. 2) posting a $3.08 billion revenue increase in its UPS Ground business. That gain was enough for the package giant to reclaim the revenue lead over rival FedEx, but FedEx retains the number-one spot in the 2023 CCJ Top 250 as we use a blended ranking methodology that factors not only revenue specific to a carrier's freight operations, but also driver count and equipment figures.
In addition to the refrigerated and intermodal segments, other groups of the CCJ Top 250 that saw year-over-year revenue increases include tank/bulk commodities (19.7%), flatbed/specialized/heavy haul (19.4%), motor vehicles (17%), general freight (16.4%), dedicated contract carriage (15.8%) and household goods (7%).
Carriers added revenue, but they did so without adding much capacity. Carriers in this year's CCJ Top 250 accounted for 491,011 tractors and 238,244 straight trucks, representing just a 1.6% increase from 2022. Driver count also increased slightly by 0.7%, with carriers in this year's ranking totaling 826,970 drivers.
Big moves
Two of the biggest jumps in this year's CCJ Top 250 ranking came largely via acquisition. Heartland Express (No. 28) jumped 17 spots after it purchased the old Consolidated Freightways (CFI) non-dedicated truckload dry van and temperature control business units from TFI International. The $525 million deal landed Heartland an additional 2,000 tractors, 7,800 trailers and 2,800 employees.
Forward Air (No. 34) jumped 23 spots in this year's ranking. The company started off the year with the acquisition of former CCJ Top 250 fleet Land Air Express, adding about 300 trucks and 25 terminals to its LTL operations. Since last year's ranking, the company has also acquired intermodal carriers Chickasaw Container Services and Edgmon Trucking. In 2022, the company posted a record year, with $1.97 billion in revenues representing an 18.7% increase from 2021.
In terms of volume, PS Logistics (No. 29) led the way with seven acquisitions since last year's CCJ Top 250 ranking, none bigger than the dedicated assets of fellow Birmingham, Alabama-based fleet Action (No. 246). The tank hauler is closing in on 30 total acquisitions since 2016.
Click here to download a printable PDF version of the CCJ Top 250.
The largest single acquisition among CCJ Top 250 fleets was Knight-Swift (No. 5) purchasing U.S. Xpress (formerly No. 19) for more than $800 million last March. The deal added roughly 7,200 tractors, 14,400 trailers, and 7,900 drivers to Knight-Swift's operations. U.S. Xpress had been struggling through a reorganization after its failed Variant fleet experiment.
The most resounding exit from this year's ranking is Yellow Corp. (formerly No. 6). Ongoing labor disputes had Yellow seeing red, and in August the LTL giant finally succumbed to its years-long financial struggles and declared bankruptcy. The closure resulted in a loss of nearly 15,000 tractors, more than 16,000 driving jobs and 30,000 jobs overall.
Two other companies not appearing in this year's list come by way of acquisition earlier this summer. Lily Transportation (formerly No. 140) was purchased by the parent company of fellow dedicated hauler Transervice Logistics (No. 140) in July. Also in the dedicated contract carriage segment, M&M Transport (formerly No. 148) was acquired by Schneider in August. Schneider said the acquisition puts the company on a path toward $1.5 billion in annual dedicated contract revenues.
About the CCJ Top 250
Commercial Carrier Journal has ranked the top for-hire trucking companies since the late 1960s. The CCJ Top 250 is the most comprehensive ranking of active carriers. Our ranking considers not only the revenues posted by a trucking company but also its fleet size and employment base.
Rankings based strictly on revenues often capture activities that have only an indirect relationship to transportation. Blending revenue, equipment and drivers also allows for a reasonable way to capture carriers that decline to disclose revenue.
The CCJ Top 250 ranking treats all carriers under one umbrella as a single entity. Carriers with significant ownership by an individual, family or company but not organized under a single management team are treated separately. Also, carriers that went out of business or were acquired by other companies in 2022 and 2023 aren't listed. Instead, only active carriers are displayed. For a detailed explanation of the CCJ Top 250 ranking methodology, see "Ranking Methodology" below.
The CCJ Top 250 begins with data provided by CCJ parent company Randall Reilly's RigDig Business Intelligence based on data supplied by carriers to the Federal Motor Carrier Safety Administration on their required Form MCS-150 filings. Because this data can be – although rarely is – as much as a couple of years old, and because the MCS-150 does not include information on revenues, all carriers included in the ranking were given an opportunity to review FMCSA data for freshness and to supply information not included on the form. In some cases, CCJ supplements its data with other official sources, such as reports filed with the U.S. Securities and Exchange Commission.
If a carrier declines to verify or update the data that we provide it for review, we presume the publicly available data is valid and use it for ranking purposes. Carriers are not allowed to opt out of the ranking.
Ranking methodology
CCJ's ranking of companies is a blended scale based on a combination of revenue, total power units and number of drivers rather than a ranking simply by revenue. Companies considered for inclusion in the CCJ Top 250 were ranked from high to low by revenue, power units (weighted based on the type of power unit as discussed below) and drivers and assigned a rank in each category.
The numerical rank stored in each of the three fields was added together (revenue rank + vehicle rank + driver rank) to provide a rank sum. This sum then was ordered to provide the overall ranking assigned to each carrier, with the lowest sum receiving the highest rank.
A number of carriers failed to report actual 2022 revenue. In order to be included in the blended ranking, they were assigned – for blended ranking purposes only – a calculated revenue figure determined by multiplying the carrier's total number of power units by the average of the bottom 50 percent of revenue per power unit performers for the companies in that carrier's primary segment.
Calculated revenue is discounted by using the average of the bottom 50 percent of performers so that carriers failing to report revenue are not given an undue advantage in the ranking. Calculated revenue almost always will differ from actual revenue, of course, but the effect on the blended ranking likely is slight.
The power unit ranking, which represents an investment as much as a physical-count measure of trucking assets, takes into account the difference between tractors and trucks. The assumption is that a for-hire carrier with 1,000 tractors has a greater investment in equipment than one with 1,000 straight trucks. For the purpose of the blended rank only, a truck was weighted at half the value of a tractor.