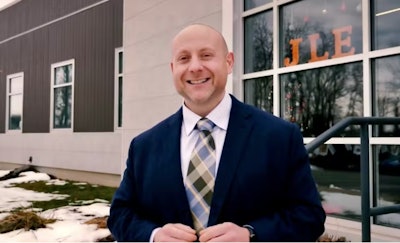 Evan Pohaski, Founder and CEO of CCJ's 2022 Innovator of the Year, JLE Industries, has been named an Entrepreneur of the Year 2022 East Central Award finalist by Ernst & Young.
Pohaski was selected by a panel of independent judges based on his entrepreneurial spirit, purpose, growth and impact, among other core contributions and attributes.
"Building JLE Industries into the disruptive platform it represents today has been an extraordinary journey, and we are honored by EY's recognition of our accomplishments. At the core of our success: DriverOS, JLE's enterprise-grade dispatch collaboration and workflow management platform launched in 2021, which includes the first internally-managed, customer-direct, freight marketplace within the highly complex North American Flatbed industry," said Pohaski. "The DriverOS platform is putting the control where it should be – in the hands of JLE's most valuable resources, our professional driver talent."
The regional finalists will be recognized, and winners will be announced at the East Central awards celebration on June 16 at Stage AE in Pittsburgh. JLE is based in Pittsburg.
The regional winners will then be considered by the National independent judging panel for the Entrepreneur of the year National Awards, which will be presented in November at the annual Strategic Growth Forum, one of the nation's most prestigious gatherings of high-growth, market-leading companies. The Entrepreneur of the Year National Overall Award winner will then move on to compete for the Ernst & Young World Entrepreneur Of The Year Award in June 2023.
For more than 35 years, Ernst & Young U.S. has celebrated the unstoppable entrepreneurs who are building a more equitable, sustainable and prosperous world for all. The Entrepreneur of the Year program has recognized more than 10,000 US executives since its inception in 1986.