Trucking news and briefs for Thursday, July 7, 2022:
ATIS company P.S.I. acquired
Pressure Systems International (P.S.I.), a provider of trailer automatic tire inflation systems, has been acquired by Clarience Technologies – the Michigan-based parent company of Truck-Lite vehicle lighting solutions, Road Ready advanced telematics, DAVCO filtration systems, ECCO safety systems and LED Autolamps. The company also owns Rigid Industries, an LED lighting provider serving the off-road recreational vehicle market, Lumitec, a commercial lighting supplier serving the luxury marine market and Code 3, a lighting and connected systems provider for emergency vehicles.
Road Ready has already been working closely with P.S.I. as part of its LogIQ smart partner network — a first-of-its-kind group of industry leaders who provide truck and trailer data to fleet customers through Road Ready's single interface. A partner since inception, P.S.I. data will still be available to fleet customers as normal, despite the acquisition.
The acquisition includes P.S.I. manufacturing operations, as well as the Truck System Technologies operations, both located in San Antonio, Texas. The company will operate as a distinct business unit of Clarience Technologies and current P.S.I. President and CEO Tim Musgrave will continue to lead the business.
Clarience Technologies CEO Brian Kupchella said his company was drawn to P.S.I. by the industry's ongoing shift to electric vehicles.
"As electric vehicle fleets seek to maximize range and minimize downtime, tire rolling resistance plays an increasingly important role in determining EV range," said Brian Kupchella, Clarience Technologies CEO. "P.S.I. is an industry innovator that expands our technology capabilities, making the company a strong strategic fit with Clarience Technologies."
P.S.I. claims that nearly 2 million of its systems have been installed on commercial trailers, and in 2017 expanded into RV trailer market with the acquisition of Truck System Technologies. Today, TST offers the only OEM-approved factory-installed tire pressure monitoring system for travel trailers, a system made available through Thor, Forest River and Airstream, among others.
NHTSA launching committee to study underride crashes
The National Highway Traffic Safety Administration is soliciting applications for its new Advisory Committee on Underride Protection (ACUP). The purpose of ACUP is to provide advice and recommendations to the Secretary of Transportation on safety regulations to reduce underride crashes and fatalities relating to underride crashes, NHTSA said.
Development of the ACUP was a requirement in the Biden administration's Bipartisan Infrastructure Law.
In addition to the new advisory committee, NHTSA is nearing publication of a final rule that will beef up the required strength of rear underride guards on trailers. The rule, which is expected to be published in the Federal Register in the coming days, "will require rear impact guards to provide sufficient strength and energy absorption to protect occupants of compact and subcompact passenger cars impacting the rear of trailers" at 35 mph, NHTSA said. The agency noted the requirement will serve to better protect passenger vehicle occupants when they hit the center of the rear of a trailer and when 50% of the width of the vehicle overlaps the rear of the trailer.
The ACUP will work solely an advisory role, NHTSA said. Its duties include gathering information and deliberating on issues related to underride crashes and fatalities from underride crashes. The group will provide advice to the DOT and will submit a biennial report to the Committee on Commerce, Science and Transportation of the Senate and the Committee on Transportation and Infrastructure of the House that describes advice and recommendations made to the DOT Secretary and an assessment of progress made by the DOT Secretary in advancing safety regulations regarding underride guards.
The ACUP will be made up of no more than 20 members. It will consist of no more than two representatives from each of the following categories:
Truck and trailer manufacturers
Motor carriers, including independent owner-operators
Law enforcement
Motor vehicle engineers
Motor vehicle crash investigators
Truck safety organizations
The insurance industry
Emergency medical service providers
Families of underride crash victims
Labor organizations
Qualified individuals interested in serving on the ACUP are invited to apply for appointment by submitting a resume, along with letters of recommendation. Applications can be emailed to ACUP@dot.gov by 5 p.m. Eastern on Aug. 5.
[Related: Rear impact guard now part of annual truck inspection]
GE Appliances adds electrics to fleet in the Southeast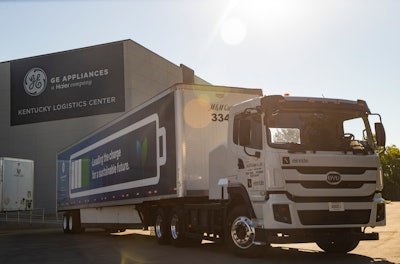 GE Appliances (GEA) is deploying a fleet of electric freight vehicles on routes between the company's inbound warehouses and its manufacturing facilities in Kentucky, Georgia and Tennessee.
The EV trucks are being driven on routes between facilities operated by the Port of Savannah, and GEA's inbound warehousing and logistics centers, manufacturing sites, and finished-goods warehouses. The trucks have a range of 200 miles per charge and will cover an estimated 125,000 miles annually – eliminating 210 tons of CO2 emissions within the first year.
This is the implementation phase of an agreement between GEA and Einride, a provider of electric and autonomous shipping solutions.
Canadian insurer acquires insurance brokerage firm
Canada-based Westland Insurance Group announced it has acquired National Truck League Insurance Brokers, a specialty transportation brokerage that operates across Canada and is headquartered in London, Ontario.
National Truck League offers a range of products and solutions including commercial trucking, cargo, disability, travel medical emergency, critical illness, downtime, and other select coverages.
"The acquisition of National Truck League further establishes Westland's leading presence in the commercial market and strengthens our capabilities within the transportation sector -- a sector that continues to be increasingly vital to the Canadian economy," said Jamie Lyons, Westland's President & COO. "National Truck League is dedicated exclusively to the Canadian trucking industry, with an outstanding reputation and commitment to serving the unique needs of its clients. As such, they bring deep vertical expertise and specialized capabilities, in addition to an impressive team of passionate professionals."